Last Sunday the family and I had just placed our lunch order for Tapas at our favorite Argentinian restaurant at the gas station on the other end of town. It was a super cold day, but well worth having to sit outside and freeze a little for such a savory meal. Yes, one of our favorite restaurants to eat at is at a gas station. Would you believe they won Yelps Best In the Bay Area Restaurant. That is saying a lot considering we live in wine country where the Kardashians and other celebrities love to vacation. So while we were waiting, I hear a rather lovely but confusing sound. Clippetty Clop Clippetty Clop Clippetty Clop. What? Clippetty Clop Clippetty Clop. Around the corner they came. Clippetty Clop. A group of four men and a young child rode right past us on their horses through the gas station, and got in line at the In and Out Burger Drive-through. The owner of the Tapas restaurant just looked at them and said, "Oh nice! My delivery guys are here! I have a few lunch orders that need to go out." For a split second I thought he might be serious. Nope. They were just hungry for burgers and were waiting in line with the cars to place their orders. Apparently they are there most Saturdays. I say it time and time again, "I love this town!" I love the turkeys that hang out at the police station that use the crosswalk, the chickens at the Walgreens that chase you to your car, the goat who steals treats at Starbucks (one time, but cute), the bear who visits the downtown every year, and the mountain lion who hangs out down by the creek. SERIOUSLY!! It's like wild kingdom around here!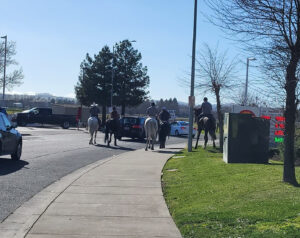 Whims & Vices (A Hippie Love Triangle Book 1)
by D. Thrush


(32 Reviews)
Genre: Coming of Age | Contemporary Fiction | Literary Fiction
FREE for a limited time
"… insightful, sweet, complex story of friendship and love." N. Iuppa
Max is in love with Molly. And so is his best friend, Sam.
Young and wild, the three friends share an apartment in the Adirondack mountains of New York in the early '70s living by their whims and vices in an endless party of drunken flirtations, freedom and experimentation, transcendent drugs, and easy sex.
Sam is charismatic and unpredictable and easily charms Molly. Max struggles with insecurity and jealousy and, through a twist of fate, finds himself in her bed, tangling their lives into a romantic knot that threatens to tear them apart. How can sensitive Max fight for fiercely independent Molly without losing his drug-addicted best friend?
Love, lies, and betrayal test their friendship and will change each of them forever. You won't forget this powerful story of a love triangle between three friends.
"I was completely immersed in the story and loved all three characters… " Claire103
"This book is not something I usually read, but… once I started I couldn't put it down." Mischelle Hardy
"Before bed, I did that thing where you tell yourself, 'just one more chapter, then I'll go to sleep.' But then I ended up finishing the book and was dismayed to have reached the end… I'm really looking forward to the sequel." EMW
Click here to get this book for FREE
° ° ° ° ° ° ° ° ° ° ° ° ° °
REV
by T.R. Harris


(179 Reviews)
Genre: Fantasy | Science Fiction
FREE for a limited time
They made him SUPER HUMAN.
Now what do they do with him?
International bestselling science fiction author T.R. Harris introduces his exciting new Military/Space Opera series about the future of space warfare… and the destiny of mankind.
The REV Warriors Series
Book 1: REV
Every kid wanted to be a REV, but very few ever would.
Zac Murphy was the most-badass REV warrior in the Corps. He'd gone on more Runs and killed more aliens than any single Human alive. He'd been one of the early volunteers for the NT-4 Program, which used a powerful performance-enhancing drug to turn ordinary Marines into super killing machines. Affectionately called REV, the drug wasn't for everyone. Few made it through the screening process, and fewer still into the Fleet.
Zac was the most-senior REV alive, a miracle of science and a legend in the Corps. His job was to be the battering ram for the Marines, the first in while revved up on NT-4. During a Run he was a mindless killing machine, dangerous to both foe and friend alike. That's why his fellow Marines gave him a wide berth until he could be put down by the Twilight drug. At that point he was somewhat manageable.
But something was happening to Zac. Long after most other REVs were dead, burned out or 'retired,' Zac was growing stronger, more powerful.
He was also doing what no REV had ever done before during a Run. He was beginning to think.
The REV Warrior Serieswas designed for the fans of T.R. Harris and his other popular space opera series The Human Chronicles Saga, featuring the larger-than-life hero Adam Cain. If you like stories about super Humans, large scale military operations against deadly aliens, mech warriors and just plain old shoot-em-up science fiction adventure, then REV is for you.
And as with all the books by T.R. Harris, there's no fluff and all action in REV, interlaced with wry humor and acerbic wit.
Pick up your copy of REV today.
And be sure to check out all 50+ novels by T.R. Harris…
The Human Chronicles Legacy Series
Raiders of the Shadow
War of Attrition
Secondary Protocol
The Adam Cain Chronicles
9 books so far, beginning with The Dead Worlds
The Human Chronicles Saga
29-book-long-series beginning with The Fringe Worlds
The Human Chronicles Box Sets
Box Set #1 – featuring books 1-5
Box Set #2 – featuring books 6-10
Box Set #3 – featuring books 11-15
Box Set #4 – featuring books 16-20
Box Set #5–featuring books 21-25
Box Set #6–featuring books 26-29
REV Warriors Series
Part 1
REV
REV: Renegades
REV: Rebirth
REV: Revolution
REV: Retribution
Part 2 – Beyond the Grid
REV: Revelations
REV: Resolve
REV: Requiem
The REV Warriors Series Box Set… The Complete First Series (5 books in 1)
Jason King: Agent to the Stars Series
The Enclaves of Sylox
Treasure of the Galactic Lights
The Drone Wars Series
Day of the Drone (currently under major rewrite)
With author George Wier… The Liberation Series
Captains Malicious
All the books are available on Amazon.com and FREE for members of Kindle Unlimited.
Click here to get this book for FREE
° ° ° ° ° ° ° ° ° ° ° ° ° °
The Gift At Sugar Sand Inn (Sugar Sand Beach Book 1)
by Leigh Duncan


(1,925 Reviews)
Genre: Literature & Fiction | Romance
FREE for a limited time
Escape to Sugar Sand Beach with Michelle Robinson and her best friends for a second chance at all life has to offer.
At forty-five, Michelle has a great life. A husband who loves her. Two children on the fast track to success. A beautiful home in the rolling hills of Virginia. And three of the best friends a girl could ever want.
But with the sudden death of Michelle's husband of twenty-five years, her life turns upside down.
Forced to sell their forever home and at odds with her children, Michelle faces a bleak future. Until an unexpected inheritance starts her on a path paved with bright possibilities.
Join Michelle, Reggie, Nina and Erin as they journey to Sugar Sand Beach where fresh opportunities for life, love and happiness are as limitless as the blue Florida skies.
Click here to get this book for FREE
° ° ° ° ° ° ° ° ° ° ° ° ° °
Deadly Journey
by Declan Conner


(92 Reviews)
Genre: Crime Fiction | Thrillers | Mystery
FREE for a limited time
DEA Agent Kurt Rawlings has made a lot of enemies in his successful career, sending hundreds of criminals to prison. But now he's the one in captivity, snatched in El Paso by assassins but taken and smuggled into Mexico by a cartel that wants him alive — for now. Hoping to survive and reunite with his family, he needs to escape before his usefulness expires.
The cartel's plans for him are more than a simple ransom. But whoever hired his abductors in the first place still wants him dead, and their reach is long. While he seeks a way out, his best chance to stay alive is to find out what the cartel wants with him, and who means to kill him
Rawlings knows what happens to agents like him — and his time is almost up. One thing is for sure. His enemies have picked on the wrong guy to mess with.
Click here to get this book for FREE
° ° ° ° ° ° ° ° ° ° ° ° ° °
Where the Rubber Meets the Road: The Art of Giving Up the Things that Don't Serve You (The Uncommon Traveler Book 1)
by Matthew Emmorey


(49 Reviews)
Genre: Self-Help | Religion & Spirituality
FREE for a limited time
Have you ever wondered what it would be like, living in a van, traveling around the states with two huskies for a year? In the winter of 2018, the author found himself without a job. He was sure something was missing from his life, but he did not know what. Little by little, piece by piece, his dream of building out a van came together. He was sure all of his problems could be solved by the open road, the sun on his face, and some rain on his roof. But Where The Rubber Met the Road, he found it was the things he gave up that solved the most.
"Right now, there are things you are doing in your life that are holding you back from things you desperately want. Upon release, your quality of life will immediately improve."
"It's rare for a nonfiction book to read the same entertaining way as a fiction, but this book does that!"
"An incredibly touching and raw story about a young man trying to do more than just "find himself.""
Where the Rubber Meets the Road is a lot of things. It is a story of a year living in a van. It is a long look in the rearview mirror. It is a meandering love story, sometimes painfully. It is a roadmap to help you give up things that are leading you astray and preventing you from having the life you dream about. In essence, it is a story about getting more with less effort. Buckle up because there are a few bumps. More importantly, enjoy the ride along a road that leads to seeing and experiencing more beauty in your life. Your destination is glorious so long as you stay present and mind the rules of the road.
If you interested in watching your dreams come together more easily, scroll up and buy a copy.
Come along for the ride!
Gifts related to this book and authors by this author at www.Matthewemmorey.com
Click here to get this book for FREE
° ° ° ° ° ° ° ° ° ° ° ° ° °