OOHHH HUBBY!!! What a cute kitty! Can I keep her?? This was the message I sent my hubby yesterday along with a picture of the baby opossum I caught. Actually, I didn't catch her, my three killer dogs did. I almost didn't recognize them as they were in kill mode when they found the tiny creature in the backyard. By the sounds of their barks I knew something was different when I let them out early in the evening. It was still light outside, so I certainly wasn't expecting any wild creatures. Thankfully the tiny creature was able to hide under a BBQ cart giving me time to get the pups back in the house. With the help of my neighbor got the critter in a cat crate, and out of harms way. I tried calling the wildlife center to get instructions since I had never dealt with a baby opossum before. Unfortunately all I could do was leave a message. Thank golly for YouTube. As I was watching a few videos, I saw a mamma  looking opossum walking across the back fence. I quickly grabbed the crate, opened the door and held the crate up to the fence. I shouted to the mamma looking critter, "TAKE YOUR BABY!!" She actually stopped! I think she was just curious about what the heck the crazy human was doing. I shook the crate a little harder, and out slide the baby onto the top of the fence. Poor critter looked a bit frazzled and kinda irritated. It did look healthy as it walked away.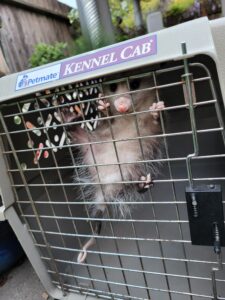 The Scent of Lies: Mystery with a Romantic Twist (Paradise Valley Mystery Series Book 1)
by Debra Burroughs


(3,045 Reviews)
Genre: Mystery
FREE for a limited time
She wants answers. He wishes he didn't want her. Watch out, people, sparks are gonna fly!
Novice private eye Emily Parker is determined to prove herself and nail her first big case. Failing to uncover the real killer means her client's life is basically over… and so is her budding career. Emily finds her biggest obstacle is the handsome cop who refuses to back down.
Detective Colin Andrews catches killers to forget his tragic past. When a pretty PI challenges his hunch about his prime suspect, he can't close the case or get the gorgeous rival off his mind. But if he's not careful, his growing feelings may prove to be a fatal distraction.
As Emily and Colin's clash brings them closer, can they uncover the truth before a murderer kills off any chance at a happy ending?
The Scent of Lies, by New York Times bestselling author Debra Burroughs, is the first book in the highly rated Paradise Valley romantic mystery series. If you like captivating characters, simmering intrigue, and a twist of sweet romance, then you'll love this engaging romp.
Get your copy of The Scent of Lies to see if this novice private eye and her big-city detective can outwit a killer today!
Click here to get this book for FREE
° ° ° ° ° ° ° ° ° ° ° ° ° °
Percivious: Insomnia
by A J Cook, J J Cook


(9 Reviews)
Genre: Science Fiction | Mystery, Thriller & Suspense
FREE for a limited time
An insomnia pandemic is sweeping the globe, leaving people unable to function and society on the brink of collapse…
Dr. Cooper Delaney believes he has the answer: Noctural, a new sleep aid — one with absolutely no side effects — which in early testing shows 100 percent effectiveness.
The only problem is that it doesn't work. With no warning. No explanation.
Unable to accept the drug's inexplicable failure and unwilling to concede to the competition, lines are crossed, ethical boundaries are pushed to the breaking point, and disturbing realizations come to light that could completely unravel civilization as we know it… and throw into question humanity's place in the universe.
A jet-set medical thriller meets sci-fi adventure with an unforgettable cast of characters, Percivious: Insomnia presents an alternate history so compelling that it could possibly be true. The first book in the Percivious Trilogy from husband-wife author duo J J Cook and A J Cook, MD, Percivious: Insomnia sets a unique and original course for fiction of the future, and paints a timely, prescient portrait of today's globalized society… and what may exist beyond the realm of our current understanding.
Click here to get this book for FREE
° ° ° ° ° ° ° ° ° ° ° ° ° °
Long-Term Care : The Elephant Lurking in Your Retirement
by Mark J. Orr CFP


(24 Reviews)
Genre: Business & Money
FREE for a limited time
Is Long-Term Care the Elephant in YOUR Room?
It's a huge potential financial challenge for millions of Americans that is all too often swept under the rug, left unresolved, and given little advanced planning. That can change right now!
This book squarely addresses both scenarios:
1) when you have the time and good health to plan ahead and
2) when there is no time or good health for planning.
It's an essential guide to help everyone financially prepare for — or navigate long-term care (LTC), including these and much more.
* Creating TAX-FREE Money for Quality Long-Term Care by Using Provisions of
the Pension Protection Act
* Tax-Efficient Strategies to Use Your IRA for LTC expenses
* Innovations for Financing Long-Term Care to Age in Dignity and Maintain
Your Choices and Independence
* Empowering You and Your Family: Resources and Support for LTC Such as
Understanding Medicaid, VA Benefits, and Asset Protection Strategies
And did you know that 12 states are exploring TAXING WORKERS WHO DO NOT OWN AN LTC policy? Washington State already passed a law adding a payroll tax! California and N.Y. look to be the next states
to enact laws to "nudge" citizens to plan for LTC.
We hope for a happy, healthy, and secure retirement, but the reality is that many of us will require some form of long-term care. In "Long-Term Care: The Elephant Lurking in Your Retirement," Mark tackles the challenges of aging and the increasing demand for elder care services.
From navigating the complex landscape of using insurance and government programs for financing LTC expenses to tips on getting the quality care you deserve, this book provides practical advice and solutions for addressing the "elephant" in almost everyone's retirement.
While it's hard to know exactly how long you will need care, on average, men require 2.2 years of care, and women require 3.7 years. In fact, 34% of people require care for longer than 2 years. Some folks, especially those with dementia, may need care for ten years!
Depending upon where you live, the cost of home care, assisted living, or nursing home care costs about $4,000 to $15,000 or more a month! Those are today's costs. What eye-popping levels will they be at when you may need care 10, 20, or 30 years in the future?
For those folks with little assets or low income, Medicaid is a safety net. Mark breaks down the complicated world of Medicaid, including mandatory estate recovery and transferring assets to qualify.
And he didn't leave out some little-known options for many Veterans. Thank you for your service!
Are you planning on having family members take on this responsibility? Have you fully thought through putting your children through this ordeal? Learn points to consider before relying on your loved ones.
Considering self-insurance? Mark explains private-pay insurance strategies to leverage one's own dollars to maximize the available funds.
Mark provides many examples of traditional LTC insurance plans and the increasingly popular annuity-based
and life insurance-based long-term care financing strategies. These plans eliminate the "use it or lose it" worry of traditional LTC policies and make up 84% of insurance solutions today while multiplying one's own funds by 3-5 times or more.
He even explores little-known "short-term care" plans for those with few assets or in poor health.
Also, get tips on choosing the right home care agency, adult day care center, assisted living facility, and nursing home, no matter how these expenses will be paid for.
The table of contents shows that "Long-Term Care: The Elephant Lurking in Your Retirement" is indeed a comprehensive guide and the ultimate resource.
Click here to get this book for FREE
° ° ° ° ° ° ° ° ° ° ° ° ° °
Peonies and Peril (Treehouse Hotel Mysteries Book 1)
by Sue Hollowell


(435 Reviews)
Genre: Mystery | Literature & Fiction
FREE for a limited time
She's returned to her old stomping ground and everything's the same… except for the flowerbed adorned with a dead body.
Chloe Carson has no clue what's next. Starting life from scratch after her husband's passing, the sixty-year-old is back in her hometown to ready the family's treehouse hotel for sale. But her six-month commitment heads into the weeds when the ornery garden club president is found pushing up daisies in her prized peony patch.
With her aging mom and bff topping the list of suspects, Chloe rolls up her sleeves and works alongside her rescued cocker spaniel to clear their names. But between prickly gossip, her triplet sisters, and a puzzling case of blackmail, the strong-willed widow fears she may never leave this small town again.
Can Chloe dig everyone out of a precarious plot before the real killer flees to greener pastures?
Peonies and Peril is the captivating first book in the Treehouse Hotel cozy mystery series. If you like zany characters, unique settings, and lovable furry companions, then you'll adore Sue Hollowell's well-cultivated whodunit.
Buy Peonies and Peril to get to the root of the crime today!
Click here to get this book for FREE
° ° ° ° ° ° ° ° ° ° ° ° ° °
HUNGERING FOR GOD
by Andy Ripley


(94 Reviews)
Genre: Foreign Languages | Religion & Spirituality
FREE for a limited time
Whether people have enough food or not, they are always hungry for something. This world is a world of appetites, and human beings are always searching for some kind of satiation. People are constantly looking to fulfill some desire or another. What sin has done to us as a people is this; it has distorted our appetites. It has made the satisfaction of our physical desires to be our primary concern, while minimizing, disguising or even completely obscuring our spiritual needs. What the body wants has become first in our priorities, rather than what the soul needs. One of the great lessons which the Lord taught when He was on the earth was that mankind needs to be hungry for the main thing and not just the other things. Jesus Christ, Himself, is presented as the main thing which we ought to hunger after. Of course, hungering for food, shelter, safety, and desiring to make families, are all significant, necessary and important. But these other appetites must never over-shadow and obscure the greatest of all needs, to be filled up with and to be satisfied with God Himself. Eight sermons to help redirect our distorted appetites. Eight sermons to stir up our hunger for God.
Click here to get this book for FREE
° ° ° ° ° ° ° ° ° ° ° ° ° °
The Lost Girl from Belzec (World War II Brave Women Fiction)
by Ravit Raufman


(648 Reviews)
Genre: Biographies & Memoirs | World Literature | Historical Fiction | Biographical
FREE for a limited time
Don't miss your last chance to read the next book in this series for only 0.99 for Bookbub readers! The offer on Amos Blas's new WW2 book, Boys of Courage, ends today – so head over to Amazon right now.
A little girl disappears from Belzec Camp without a trace. Will she survive the war on her own?
Poland, 1942. At the very height of World War II, little Ruthie and her mother are forced to leave their home and transported to the forbidding Belzec Extermination Camp, from whence no one has ever returned.
Ruthie's mother knows that her daughter's life is in grave danger. By a stroke of luck, she catches the eye of the camp commander and he makes her his housekeeper, delaying their death sentence for the time being.
Realizing that she must act fast, with no regard for her own life, Ruthie's mother is able to smuggle her beloved daughter out of the camp to safety. But it is not long before the commander inevitably discovers her betrayal – and while he chooses not to kill her, he leaves her with a scar that will follow her for the rest of her life.
This is the gripping story of Ruthie, the lost girl from Belzec, intertwined with that of her own daughter Noga, many years later. As Noga delves into the untold mysteries of her mother's past on a quest to heal their fragmented relationship, she is about to discover shocking truths which will change them both forever.
Click here to get this book for FREE
° ° ° ° ° ° ° ° ° ° ° ° ° °