I  really like my chickie Stella. Yes, of course I love her, but I also really like her. I am not sure she has the same feelings for me though. She certainly doesn't like to be hugged. She slaps me in the face if I try to hug her. Kinda hurts deep in my soul when she does that. Other than trying her best to avoid me at all costs, she is a sweet chicken. She is nice to the other ladies, never pecks at anyone, and does her part to keep wild birds off the lawn. She also never terrorizes my plants. I have yet to see her rip a tomato plant out of the pot like Jackie (Naughty chicken!), or pick all the blooms off flowers that I planted.  We may not be best buddies (except when I have treats), but she is a darn good chicken, and I like her.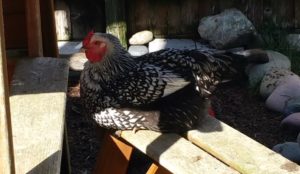 Bangkok Rules
by Harlan Wolff


(127 Reviews)
Genre: Thrillers | Mystery
FREE for a limited time
Thailand is terrified. A sadistic serial killer has been abducting young innocents for his ritual horror and the authorities are clueless. Carl Engel is an enigma. The blunt Londoner has forged a thirty-year career as a private investigator amid the chaos of Thailand's political history. Struggling with advancing years and a decreasing workload he is approached by an elderly American with a lucrative missing persons case. The case descends into the sordid world of the elusive serial killer and a menacing web of political intrigue dating back to the Vietnam War. Carl must use his guile and experience to stay alive, find the killer and negotiate the dangerous military interests that lurk behind the scenes. Based on a real person Carl Engel lives in a world rarely seen by outsiders and hauls the reader on a pulsating ride to the explosive conclusion.
Click here to get this book for FREE
° ° ° ° ° ° ° ° ° ° ° ° ° °
Contemporary Cowboy Romance 3 Book Box Set
by Amelia Rose


(56 Reviews)
Genre: Westerns | Romance | Contemporary Fiction
FREE for a limited time
Each one of these three contemporary cowboy romance stories is the first book in a series but they can all be read as a standalone story.
This box set includes:-
Learning To Love (Carson Hill Ranch: Book 1)
For Miranda, Newark has nothing to offer except a dead-end job, a crummy apartment, and an abusive boyfriend. But when her younger sister signs her up for an online dating website to prove to her the kinds of guys who would be interested in her, she starts an online connection with the perfect guy. He's handsome, he's a real-life cowboy, and… he's in his seventies!
Miranda steps off the bus to find the man of her dreams waiting for her, only he doesn't know it. His elderly father, concerned that his six sons are isolated on their highly prosperous 800,000-acre ranch signed up one of his oldest boys and did a little matchmaking behind their backs.
Now Miranda and Casey have a choice to make, but will they be willing to put aside their mistrust and give this a shot, or go their separate ways?
Mending Fences (Texas Heat Series: Book 1)
Marlene is one of the Red O'Connor's kids and she's got her dad's fiery temper. Itching for something bigger, she left the family ranch in Texas and hasn't been back for a while. Now, for the first time in months, she's back on vacation where she meets Curtis Copeland who is working as a ranch hand on Circle O. The last thing Marlene wants is any form of relationship, she has a full life already and it's not on the farm. Curtis has different ideas though; he's waited ten years to finally have Marlene and fate or destiny delivered her to him. Yet everything seems to be working against them. Marlene's family is dead set against the relationship and Curtis harbors a ten year old secret that can tear them apart. Whether they will be able to overcome the obstacles to be together is a question neither Marlene nor Curtis can answer.
Stranded, Stalked and Finally Sated (License To Love: Book 1)
Clara Roberts has found herself forced to flee across country, pursued by a madman who seems to have access to every aspect of her life. Consequently, she is off the grid and under the radar when her truck breaks down in a small corner of Southwestern, Oklahoma, and she finds herself at the mercy of a local cowboy. While she knows that she will eventually have to keep running to stay one step ahead of her stalker, she begins to find herself drawn to this man. With his support she decides that her life is something worth fighting for.
Shad Brandt wasn't sure what to expect when he pulled over to help out the girl on the side of the road, but it isn't long before he realizes that she was a lot more than he bargained for. He knows that she is running from something, but he can't quite place his finger on what it is. However, he cannot turn his back on this woman in need and when he opens his home and his heart to her he finds something else entirely. So when danger comes to lay claim to Clara, he finds that he is willing to sacrifice everything to make sure she stays safe.
Click here to get this book for FREE
° ° ° ° ° ° ° ° ° ° ° ° ° °
Afterimage (The Enertia Trials Book 1)
by J. Kowallis


(32 Reviews)
Genre: Science Fiction | Teen & Young Adult
FREE for a limited time
Reggie's dreams… aren't dreams.
Visions of the future flood her mind like shards of broken puzzles. Caged in her cell, every morning begins the same. She's drugged, tortured, and images are torn from her memory by Public One.
Until the morning everything changes. The vision is different. The future's never been about her, and now she knows they're coming for her:
Nomads.
How will she convince them to keep her alive when Nate, their leader, doesn't like or even trust her? To him, she's a science experiment. A machine.
When Public One will do anything to keep her, Reggie must make a decision: remain a slave to her past, or risk her future to venture into a world more terrifying than she's ever known.
Click here to get this book for FREE
° ° ° ° ° ° ° ° ° ° ° ° ° °
The Last Mountain Man: A Will Cannon, Bounty Hunter, Western Adventure Novel
by Larry Hill


(13 Reviews)
Genre: Westerns | Action & Adventure | Classics
FREE for a limited time
Will Cannon rescues Mountain Mike, the last living mountain man, from a gang of outlaws from Taos, New Mexico. The gang of ruthless outlaws are trying to steal Mike's silver claim. Will gets some cowboys and some vigilante miners and devises a plan to rid Taos of the outlaws.
Click here to get this book for FREE
° ° ° ° ° ° ° ° ° ° ° ° ° °
Route 47
by Molly Faris


(28 Reviews)
Genre: Biographies & Memoirs
FREE for a limited time
"I'm in big trouble, aren't I," is Dad's response when Mom tells him he is terminal. This true-life novel is told through the eyes of Molly, a funny, unrefined, now Californian who returns home to say goodbye to her disease ridden father. She has been distant from her Midwestern family but is stuck in her childhood living room with her mother, whom she never agreed with, and her father, whom she thought was a wonderful man, but learns he is burdened with guilt. He fights for peace as he travels through his past and reaches for his Heaven.
Dysfunction, hell, and the fear that God exists collide in this raw version of the never told side of death. Not for the faint of heart; graphic, funny, vulgar and spiritual. This is an honest account of a daughter's journey through her father's demise.
Click here to get this book for FREE
° ° ° ° ° ° ° ° ° ° ° ° ° °