It's funny how this one little sprout is making me so happy. I think it might be a Morning Glory, and not the snap pea that I originally thought, but it's a start!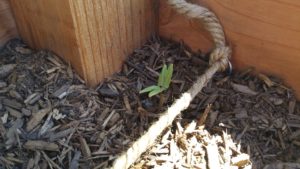 Oak Mountain (The Oak Mountain Trilogy Book 1)
by Stephen T. Gerdel


(21 Reviews)
Genre: Drama & Plays | Action & Adventure | Arts & Photography
FREE for a limited time
The story opens in St. Louis with the assassination of the President of the United States. The assassin simply walked away, drove to the airport and escaped. Special Agent Mike Trapper, a Secret Service agent and team leader for presidential security, follow his trail and connections across the country and around the globe.
It is soon discovered the plot is broad and planned over many decades. Mike and a team of specialists in Washington discover a network of "sleepers" who hold many positions in the government, and the chase is on to find where they will strike next.
Mike is hounded by the reason and objective of the attack. After three tours in Iraq, he knows the cost of failure and the price of personal injury. His heroism and leadership place him in a position requiring secrecy and determination as the plot expands to envelope the nation.
But the tension increases when he discovers his family is in the cross-hairs of the next attack. The evil he pursues seeks to turn against him and strike at his very heart, threatening his wife Elli, and their four children.
The compelling story in Oak Mountain is captivating. It is the first novel of the Oak Mountain trilogy and launches the reader into a spellbinding journey. The technology used in the story is contemporary, exciting, and real. The events portrayed could happen on the evening news any day, any time.
Join Special Agent Mike Trapper as he pursues those who would destroy a nation. Discover their targets and see how hard work, keen intuition and the high-tech tools of tomorrow save the day.
Click here to get this book for FREE
° ° ° ° ° ° ° ° ° ° ° ° ° °
Dating Husbands
by Lindy Zart


(77 Reviews)
Genre: Romance | Humor & Satire
FREE for a limited time
Bianca has three loves: her job, her cat, and Bloody Marys. Not necessarily in that order. Life is good, the best, until Drew sabotages Bianca's black and white world and forces her to see the gray in it. Which is really annoying, as it disrupts her Bloody Mary drinking time.
Drew Montgomery left his old life to start a new one, but still the past continues to haunt him. Bianca Fisher makes him forget, gives him hope, and confounds him, all at once, and from just one encounter. Drew tells himself to run, to run away and fast, but his feet won't listen. Neither does his heart.
Click here to get this book for FREE
° ° ° ° ° ° ° ° ° ° ° ° ° °
The Grail Quest
by J.R. Rain


(90 Reviews)
Genre: Fantasy | Action & Adventure
FREE for a limited time
Plagued by months of persistent dreams of King Arthur, Merlin and the Holy Grail, mystery novelist James Dupree finally sets out to England to understand the meaning behind his nightly visions.
Upon arriving in Glastonbury, a locale deeply connected to stories of Camelot, Avalon and the Knights of the Round Table, James quickly discovers that not all is as it seems in this quaint little town. There's a raven-haired girl dying of a rare lung disease, knights with swords, and perhaps strangest of all is the man who emerges from the forest… a man who just might be the greatest king Britain has ever seen.
At once inspiring and pulse-pounding, THE GRAIL QUEST is for anyone who dares to dream — and dares to slay dragons.
Click here to get this book for FREE
° ° ° ° ° ° ° ° ° ° ° ° ° °
If Bullfrogs Had Wings…
by Lee Carey


(12 Reviews)
Genre: Historical Fiction | Family Life
FREE for a limited time
This historical novel set in the mid-fifties has become a hit with 'baby boomers'. This story is set in West Virginia in 1957, a time when family was family and friends were essential. You will quickly relate and bond with Keith DeLong and his best friend, John 'Flea' Summers, two normal teens growing up in a rugged coal mining town and desiring to work in the outdoors instead of around a dark, dingy coal mine.
For a summer job they decide, instead of working as gophers around the mine, to work outdoors in fresh air and sunshine. They apply for the caddy job at the Bluefield Country Club, without their parents' knowledge. This move will not set well with Keith's coal-mining father. Keith's best friend Flea is struck with a serious illness. Keith is also swamped by waves of decisions and increasing heartaches in the midst of his dreams. After warning his son about the uppity attitudes of the Bluefield 'rich' folks, against his better wishes, Keith's father allows him to caddy. "You'll learn about them folks… the hard way, son."
At the Bluefield Country Club, Keith's nemesis is, Eddie Brinkley, the head caddy, and son of a wealthy lawyer. The friction between them grows, but Keith refuses to allow this kid to ruin his caddy job, which would solidify his father's biased attitudes.
One day Keith caddies for an older gentleman, a dairy farmer from Texas who mentors him and soon realizes Keith is a 'natural' in the sport. With Chet Holloway's help, Keith works hard to excel in the game, along with trying to get Flea out of depression after he returns from the hospital. Even against Keith's father's headstrong opinions of the rich folks, Keith overcomes and succeeds.
This story will pull you in and have you rooting for these two teens in their struggles and determination. Have a tear-wipe handy. Oh, and then there's the sequel "Out of the Rough".
Both novels are suitable for all ages, especially those of us who recall the late 50's and how times were.
Click here to get this book for FREE
° ° ° ° ° ° ° ° ° ° ° ° ° °
Beeline To Trouble (Queen Bee Mysteries Book 4)
by Deb Baker, Hannah Reed


(34 Reviews)
Genre: Mystery | Women's Fiction
FREE for a limited time
When beekeeper Story Fischer pitches in to help her sister host guests at her lake home and one of them drops dead in Story's backyard, Story and Holly become the prime suspects. It's up to Story to comb through the evidence and find the real perpetrator before she ends up getting stung herself.
Originally published in 2012 under the name Hannah Reed
Click here to get this book for FREE
° ° ° ° ° ° ° ° ° ° ° ° ° °