I see you peeking through the grass little pumpkin. No pressure, but so far out of eight plants you are the only little guy so far and Halloween depends on you. No pressure though.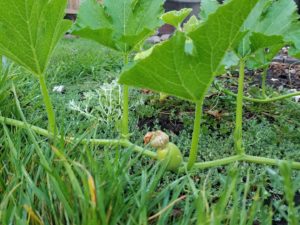 The Darknet File (The Agency Series Book 2)
by Max Tomlinson


(8 Reviews)
Genre: Thrillers | Mystery | Teen & Young Adult
FREE for a limited time
Agent Maggie de la Cruz's problems are just beginning when a high-ranking defector from Jihad Nation doesn't show up for a secret meeting in Paris. Suicide bombers appear instead. And when the woman who snared Kafka, the defector, is killed in the attack, it's up to Maggie to assume the dead woman's identity and lure him to the Agency's side before he escapes to Iraq. Dismantling a billion-dollar Darknet operation funneling money to terrorists committing genocide hangs in the balance.
*** This novel may be read standalone but is the second in The Agency Series. THE CAIN FILE is book 1.
Click here to get this book for FREE
° ° ° ° ° ° ° ° ° ° ° ° ° °
Seven Will Out: A Renaissance Revel
by JoAnn Spears

(18 Reviews)
Genre: Humor & Satire | Humor & Entertainment | Satire
FREE for a limited time
If you thought "Six of One: A Tudor Riff" was the most fun you could have with your nightdress on, wait until you see what "Seven Will Out: A Renaissance Revel" has in store for Tudors fans and Shakespeare and Marlowe conspiracy theorists. Get ready for one 'ruff' night!
Tudorphile Dolly thought that the night she spent on an astral plane with Henry VIII's six wives, learning their heretofore unknown secrets, was a one-time thing. Not so! In "Seven Will Out", Dolly finds herself back in the ether with the women of later Tudor times: Elizabeth I, 'Bloody' Mary, Bess of Hardwick, Mary, Queen of Scots, and Anne Hathaway Shakespeare, to name a few. They too have secrets that will turn history on its head, and comic sass that will keep you laughing. And if that isn't enough, there is even a cameo appearance by Anne Boleyn.
You've read all of the traditional, serious and romantic takes on the legendary characters of the English Renaissance. Why not try your Tudors and your Shakespeare with a new and different twist?
Click here to get this book for FREE
° ° ° ° ° ° ° ° ° ° ° ° ° °
Glasby's Fortune
by James H. Drescher


(14 Reviews)
Genre: Historical Fiction | Action & Adventure
FREE for a limited time
Steer this ship… or die!
Harry Glasby of Boston, a man with impeachable honor and big dreams, has earned a reputation as one of the best navigators off the northeast coast of the North American colonies. Only 21, he is already the sailing master of the merchant sloop Samuel.
But on July 13, 1720, Glasby's world is capsized. The crew of Captain Bartholomew Roberts swarms over the gunwales of the sloop and takes another prize. At the point of a cutlass, Glasby and most of his shipmates are taken prisoner.
When Roberts, who has recently lost his navigator, learns that Glasby is a master of the art and craft, Harry's fate is sealed. The most ruthless pirate captain of the day makes it clear: "You will steer my ship or you will die!"
As His Majesty's Royal Navy declares war on piracy, Glasby, no longer on the side of the angels, is thrust into a life of bloody sea battles, plunder, and the precarious and dangerous fellowship of the pirate brotherhood. From the islands of the Caribbean to the disease infested coast of Africa, Glasby guides Roberts, the scourge of the Royal Navy, to countless victories and incalculable wealth.
Glasby is haunted by guilt and wracked with worry for Constance Sacker, his fiancée and the woman carrying his child. Intelligent and resourceful, Glasby must escape and return to Boston. But how does a prisoner of pirates find his way home?
Glasby's Fortune is inspired by real events surrounding two historical figures, Harry Glasby and Bartholomew Roberts. Roberts is credited with more than 400 sea victories, making him the most successful and audacious pirate of The Golden Age of Piracy.
Click here to get this book for FREE
° ° ° ° ° ° ° ° ° ° ° ° ° °
Kindred: Book 1 A Realms of the Otherworld Book
by Jana LaPelle


(30 Reviews)
Genre: Fantasy | Teen & Young Adult | Coming of Age
FREE for a limited time
Adopted at an early age she's been given every advantage. Eighteen year old Ashlinn Ryllae Elan has wondered, for most of her life, where she fit in. Where did she really come from and why she was abandoned with nothing more than a Celtic inspired pendant necklace. After her eighteenth birthday, strange dreams plague her during the night leaving her to wonder about the man who now seems to haunt her nightly. The connection she feels to this handsome stranger leaves her wishing for him to be real and she longs to know more about him. Little does she know that her entire world is about to change.
Alaric Rhys Faerondarl has waited a long time for Ashlinn to come of age. He is her Guardian and they are Kindred. He has been tasked to keep her safe and bring her home. Their destinies are intertwined and he will do whatever it takes to keep her out of the hands of The Morrígan and the Fomorians. But will it be enough to overcome the obstacles that have been set before them?
The battle to save the Realms is just beginning.
Disclaimer: Kindred is intended for mature readers due to some adult content.
Click here to get this book for FREE
° ° ° ° ° ° ° ° ° ° ° ° ° °
The Little Wedding Shop by the Sea (The Little Wedding Shop by the Sea, Book 1)
by Jane Linfoot


(55 Reviews)
Genre: Romance | Women's Fiction | Contemporary Fiction | Holidays
FREE for a limited time
Brides by the Sea, the cutest little wedding shop in all of Cornwall, has it all, including cake baker Poppy who lives upstairs. But wedding planning is not the piece of cake Poppy thought it would be, and when her best friend Cate's wedding planner walks out, Poppy has to tie up the loose ends so her bestie can tie the knot.
Double-booked venues, 'rustic' locations and gorgeous but grumpy farmer Rafe have this wedding pro feeling like she could be Cate's 'something blue.'
Will the wedding, the shop and the cake all come crashing down on her? Or will Poppy pull it off to give Cate – and herself – the happy ever afters they deserve?
This is the first full-length novel in a brand new series set in Cornwall. Look out for the next books in The Little Wedding Shop by the Sea series.
The perfect romance to take on your summer holidays! For fans of Milly Johnson, Jenny Oliver and Lucy Diamond.
Click here to get this book for FREE
° ° ° ° ° ° ° ° ° ° ° ° ° °