OH MY GOLLY!!! This guy just made me smile! I would go camping with him anytime!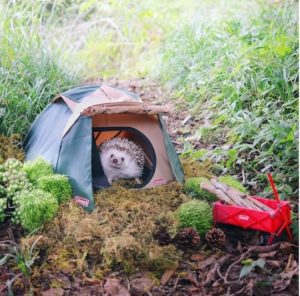 The Dead and the Missing (Adam Park Thriller Book 1)
by A. D. Davies


(99 Reviews)
Genre: Mystery | Thrillers
FREE for a limited time
A brutal international underworld. A kidnapped girl. A PI determined to burn it all.
When Adam Park's former mentor recruits him to locate a vulnerable loved one, he learns very quickly that the girl is either the victim of an ex-con's manipulation or the brains behind the robbery of a major criminal enterprise. Whatever the truth may be, she is in mortal danger. Tracking the pair from the UK to Paris, then Paris to Asia, Adam delves into the murky and violent world of human trafficking and extortion, where he must draw upon the darkest corners of his psyche to survive. But these are facets of himself he has long denied exist. Bubbling just beneath the surface, Adam has kept his anger and violence caged all his life. Because he's a good person.
Isn't he? The Dead and the Missing is the first Adam Park novel, a journey that launches a PI from the relative safety of the corporate world to the hard-boiled existence required to get the job done. At any cost to his soul.
Click here to get this book for FREE
° ° ° ° ° ° ° ° ° ° ° ° ° °
The Price of Penny
by TC Rybicki


(17 Reviews)
Genre: Romance
FREE for a limited time
Chet Parker lived a charmed life. Millions of fans adored him. Starring in one of Hollywood's hottest franchises provided instant fame and all the perks a young man could ever want. He had the love and support of his family and friends. Life was almost perfect until he realized it wasn't and there are some things money can't buy.
Penny.
Penelope Kopernik built a wall to survive. She set goals and proceeded to live a disciplined and orderly life. Her heart closed itself off a long time ago out of necessity. Love was no longer on the agenda. The last thing she craved was the attention of a cocky, self-absorbed actor, but once she had it, the plan started to change and so did she.
One chance meeting proved neither had life figured out. Their destinies merged when they least expected it. Could they survive what the future held or would they burn bright until they faded out?
He had the world at his fingertips, but she was about to cost him everything.
Click here to get this book for FREE
° ° ° ° ° ° ° ° ° ° ° ° ° °
The Purloined Pint
by E. M. Sorensen


(26 Reviews)
Genre: Science Fiction | Fantasy
FREE for a limited time
Someone Stole The Vampire's Blood Supply!
Eddie Vangh has kept a secret for seventy years "" he's a vampire. Converted as an American soldier in Germany in 1945, Eddie does not feed on human prey, he gets his blood from his own plasma firm. He thinks that he is the only vampire in Seattle, but all that's about to change.
A Crime That Cannot Be Reported
Spartak Newmark, a wealthy aerospace company owner, calls Eddie and tells him that he wants him to investigate a theft. When Eddie meets Spartak he soon discovers why this crime has not been reported to the authorities "" blood and blood products were stolen. Spartak is also a vampire and what has been taken from him is invaluable "" encapsulated blood from very old vampires.
Eddie's Biggest Client Could Be His Last
As it turns out, there are a number of vampires in Seattle "" some far more dangerous than others. Finally, Eddie isn't alone, he's fallen in love and no longer feels completely isolated, but getting the stolen blood back could cost Eddie his life and failing to do so might be fatal as well.
Click here to get this book for FREE
° ° ° ° ° ° ° ° ° ° ° ° ° °
The Death of Addie Gray
by Amy Cross


(19 Reviews)
Genre: Horror
FREE for a limited time
For the past nine months, Erica Gray's daughter has been in a coma. But just when hope seems to be running out, Addie suddenly wakes up.
Or at least, someone wakes up in her body.
At first, Erica ignores the warnings signs. Determined to enjoy her daughter's miraculous recovery, she sets about making their lives perfect again. Slowly, however, she's forced to face the possibility that someone or something else has taken control of Addie. But how could another person be in her daughter's body? And what is the connection to a horrific series of murders that took place more than forty years earlier?
The Death of Addie Gray is a horror novel about a woman who has to face the terrifying creature that has taken roost in her daughter's body.
Click here to get this book for FREE
° ° ° ° ° ° ° ° ° ° ° ° ° °
Marshmallow Mayhem
by Becky Clark, Ted Hardwick


(3 Reviews)
Genre: Mystery | Humor & Satire
FREE for a limited time
In this sequel to BANANA BAMBOOZLE, all Cassidy Dunne wants is a road trip to bond with her niece and some gooey campfire s'mores. What she gets is an extra serving of mayhem — marijuana brownies, creepy locals, an ardent admirer, a precocious canine cohort, and a dead body.
Driving an RV from California to Colorado in winter poses plenty of challenges, some of which can be solved, at least temporarily, by her secret stash of candy. But nothing can sugarcoat the clues pointing to her involvement in the murder.
Click here to get this book for FREE
° ° ° ° ° ° ° ° ° ° ° ° ° °