First… BIG THANK YOU TO NANCY for sharing this! For all of you gardeners out there these vintage garden posters are all you need if you are lacking a bit of inspiration. If you want to see all twelve posters click here. I am going to try to decorate my garden with these posters. Time to Google "How to Make Water resistant Art". Although I am thinking a bit of Mod Podge and a piece of corrugated metal, might do the trick. Time to get cracking!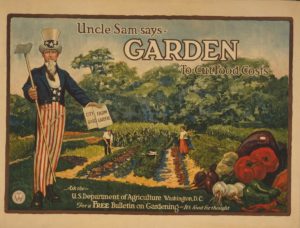 The Broken Ones
by Sarah A. Denzil


(314 Reviews)
Genre: Mystery, Thriller & Suspense | Suspense | Thrillers
FREE for a limited time
"You will know me."
The hoarse whisper comes from a room in the house during the dead of the night. A stranger's voice recorded by equipment Sophie set up, because Sophie is paranoid that someone is out to get her.
With few people in her life, Sophie spends all of her time either teaching at a primary school or caring for her ailing mother. Suffering from early onset Alzheimer's disease, Sophie's mother is a difficult patient, leaving her little time to herself.
But on the day Sophie finally decides to put herself first and go on a first date, strange things begin to happen. She finds a discarded button in the garden. A hand print on the outside of the window. Her confused mother blames new bruises on a 'shadow'. Who is following her and why?
And then the voice…
After years of emotional abuse, Sophie begins to wonder if her cruel mother is faking her illness and playing tricks on her.
But what kind of mother would do that to her daughter? And what about the man she met online?
To uncover her stalker, Sophie must look into her past, but she might not like what she finds.
An unsettling psychological thriller by the Wall Street Journal bestselling author of SILENT CHILD.
Click here to get this book for FREE
° ° ° ° ° ° ° ° ° ° ° ° ° °
Trouble With The Earl
by Olivia Kane


(25 Reviews)
Genre: Historical Fiction | Literature & Fiction
FREE for a limited time
In the beautiful county of Hertfordshire, the Lady Charlotte Radcliffe has reached the imminent age of marriage. Her father, the estimable Lord Radcliffe, who is in poor health, has proclaimed she must marry a suitor within forty-five minutes of their estate so as not to unduly grieve her mother. When they draw up a list of suitable suitors for her, Charlotte is delighted to find the recent widower, the Earl of Buckland, at the top of their list. Believing a good marriage is more of station and security than attraction or love, Charlotte proceeds with her parents' plan to make her the Earl's second wife. Yet when Guy Lancaster, the family's former tutor, unexpectedly arrives in Hertfordshire, he laughs at her geographical approach to marriage and challenges her to let her heart, and not her lists, decide her future.
The Trouble With The Earl is a lighthearted, sweet Regency romance that takes place in the same towns and neighborhoods where Elizabeth Bennet and Mr. Darcy live, who also make appearances in the novella. In the spirit of the time frame, it is a genteel romance where only the tea is steamy.
Click here to get this book for FREE
° ° ° ° ° ° ° ° ° ° ° ° ° °
Tortugas Rising
by Benjamin Wallace


(52 Reviews)
Genre: Humor & Satire | Literature & Fiction | Humor & Entertainment
FREE for a limited time
A Thrill a Minute! (If you read fast enough.)
In the middle of the Gulf of Mexico, on a chain of manmade islands, Steve Bennett finds himself thrust into a world he doesn't understand. An unexpected inheritance places him among the world's wealthiest people. His best friend, Paul, is more than happy to stand by him as Steve works through his newfound affluence. Right until the pair stumbles upon a secret that could change the world forever.
The Action Never Stops! (As long as you keep reading. Don't be a quitter.)
Their discovery puts the two friends in the sights of conspirators and killers that will stop at nothing to see their plans fulfilled. Steve and Paul must evade the killers, escape the islands and save the world. Of course, they have no training, no allies and no idea what they're doing. They're not really in the best shape. And, Paul's really not the brightest guy.
The Pages Turn Themselves! (Actually, that's not true. You still have to do that.)
The action unfolds across the chain of luxury islands with boat chases, car chases, blazing guns, beautiful women, charging rhinos, castles (okay, it's just one castle) daring escapes, dirty limericks, deadly villains and more.
Click here to get this book for FREE
° ° ° ° ° ° ° ° ° ° ° ° ° °
Cryo-Man
by Kevin George


(27 Reviews)
Genre: Science Fiction & Fantasy | Science Fiction
FREE for a limited time
**HONORABLE MENTION IN THE 2014 HOLLYWOOD BOOK FESTIVAL**
From IndieReader.com review: "CRYO-MAN is an interesting look at a future where robots and humans battle for survival in the aftermath of a great war. Niko's adventures through this wasteland to recover his lost memories set the stage for an unusual look at life after an apocalypse. The world of CRYO-MAN is rich with detail and ripe for a series."
Nikolas Edwards has a lone memory: he follows his young son around their house, playing and laughing, as any normal father would with his boy. But Nikolas is very sick and the memory ends with his death, though not before he has his son make a very important phone call…
When Nikolas awakens next, he is no longer the man he used to be and no longer lives in the world he once knew. He has changed dramatically, more than he imagined a human possibly could. Cryonics has given him a second chance at life, but it has taken away nearly every memory he once knew, leaving only the final moment before his human death.
But the thought of his son remains, tethering him to a past he desperately wants to remember. Though the world is no longer controlled by humans, he sets off to learn about his family by any means necessary, even though what he's become makes him an enemy to all.
Click here to get this book for FREE
° ° ° ° ° ° ° ° ° ° ° ° ° °
If The Shoes Fit
by Pauline Lawless

(22 Reviews)
Genre: Literary Fiction | Literature & Fiction | Humor & Satire
FREE for a limited time
'Calling All Shoe Addicts', said the advertisement that triggered a response in four very different women, each at a difficult time of her life.
Niamh, at 23, the mother of a five-year-old and twin girls aged four, is desperate to have a home of her own. She longs to escape the house of her vicious mother-in-law but her charming, irresponsible husband and the mountain of debts they have makes this seem ever more unlikely.
Amber, former air stewardess whose husband Dermot left her for a younger woman, has lost all her confidence and is drowning her sorrows with alcohol.
Tessa, beautiful former model, paid the price for living life in the fast lane when she almost died from a heart attack. Her reliable friend, George, persuaded her to come and live with him in Ireland. She now realises that she's made a dreadful mistake.
Rosie, recently widowed, can't come to terms with the loss of the man she loved so much. Life without him doesn't seem worth living.
All of them, needing a way out, find it with the Italian designer shoe company, 'If The Shoes Fit'. This leads them to a new career, great friendships and a life-changing experience.