My Sweet chaweenie Junebug has decided to quit doing mornings all together. In the beginning when it was time to wake up she would get out of her nighttime snoodlepoof( that's what we call her bed) and she would go outside to take care of business, come in to eat, and maybe play a little. Lately though she is doing less and less moving around. Today was the day she finally just quit mornings completely. She refuses to get out of bed, and instead hubby just moves her in her bed from the bedroom to the dining room and puts her on the chair…in her snoodlepoof. Had I been told that I could quit mornings all together I certainly would have. I feel that my window of opportunity has passed on that. I am doing my best to not let my baby bassets in on that little secret.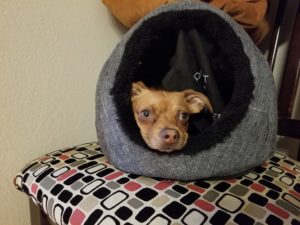 PERCEPTION: (A Sci-fi Mystery Dystopian Romance) (The Perception Trilogy Book 1)
by Elle Strauss, Lee Strauss


(483 Reviews)
Genre: Children's eBooks | Mystery
FREE for a limited time
PERCEPTION is a near-future mystery that can be read alone (no cliffhanger!)
ETERNAL LIFE IS TO DIE FOR
Seventeen-year-old Zoe Vanderveen is a GAP — a genetically altered person. She lives in the security of a walled city on prime water-front property along side other equally beautiful people with extended life spans.
Zoe's carefree life takes a traumatic turn when her brother Liam is murdered.
The only one who can help her find out what happened is Noah Brody, the last guy on earth she should trust.
Noah Brody is a natural who lives on the outside. He leads protests against the GAPs and detests the widening chasm they've created between those who have and those who don't. He doesn't like girls like Zoe and he has good reason not to like her specifically. He's not sure why he's agreed to help her, but what he finds out when he does, will change his life forever.
Click here to get this book for FREE
° ° ° ° ° ° ° ° ° ° ° ° ° °
Cabs, Cakes, and Corpses: A Jessica James Cozy Mystery (Murder on the Equator Book 1)
by Jennifer Joy


(21 Reviews)
Genre: Action & Adventure | Literature & Fiction | Mystery
FREE for a limited time
Defying the boundaries of her comfort zone… one murder at a time.
Jessica James isn't the kind of girl who has adventures. She isn't the kind of girl who hops on an airplane to a foreign destination. And she most definitely isn't the kind of girl to traipse around in the jungle for a murder weapon. But one taxi ride changes everything.
Caught between the crime scene's evidence and a hard-nosed homicide detective, Jessica is forced into one catastrophe after another as she searches for the truth. With the help of two elderly sisters (who are more troublesome than helpful), she'll either catch a murderer… or end up in jail.
Will Jessica's newfound bravery help her survive her vacation? Or will it make her the next victim?
Cabs, Cakes, and Corpses is the first novel in Jennifer Joy's Murder on the Equator cozy mystery series set in the charming, touristy town of Baños, Ecuador — where majestic waterfalls carve through the Andes Mountains and the balmy jungle breezes carry your worries away to the tune of salsa music.
Read Cabs, Cakes, and Corpses to satisfy your craving for a quirky cast of characters to root for in this fast-paced story of mystery, humor, and discovery today!
Click here to get this book for FREE
° ° ° ° ° ° ° ° ° ° ° ° ° °
The Devil's Fire: A Pirate Adventure Novel
by Matt Tomerlin


(245 Reviews)
Genre: Literature & Fiction | Historical Fiction | Action & Adventure | Genre Fiction
FREE for a limited time
THE BLOODY PIRATE SAGA BEGINS…
The waters of the Caribbean run red in this brutal tale of revenge that is not for the faint of heart! Katherine Lindsay, the pampered young wife of a wealthy ship captain, has left her leisurely life in London to accompany her husband to America. So far their journey has been uneventful, even boring. But when ruthless pirates suddenly storm the ship to plunder her husband's riches, Katherine is one of the treasures they steal, sparking a bloody chain of events that will alter the course of piracy in the Caribbean forever.
Whisked aboard a fearsome brigantine named "Harbinger", Katherine must contend with an ambitious pirate captain who wants her for himself, a sadistic quartermaster who firmly believes that women bring bad luck upon a ship, and a crew full of lustful miscreants. With no means of escape on the horizon, she quickly befriends a dashing young deckhand and a cowardly surgeon. As Katherine grows accustomed to life among pirates, she finds it increasingly difficult to resist her attraction to their wayward lifestyle and the thrill of high-seas adventure. But the memory of her dead husband weighs heavily on her conscience, and her rising guilt may prove to be the ultimate undoing of her kidnappers.
Pirate lovers will find no shortage of treachery, cutlass duels, ship battles, buried treasure and much, much more.
Click here to get this book for FREE
° ° ° ° ° ° ° ° ° ° ° ° ° °
The Ghosts of Lakeforth Hotel
by Amy Cross


(97 Reviews)
Genre: Horror
FREE for a limited time
Do ghosts get to choose where they haunt? Do they get to choose what they become once they're dead?
When Beth Hayes arrives at Lakeforth Hotel, she's expecting a quiet, sedate and maybe even boring night. What she finds, however, is a crumbling old ruin that has clearly been left abandoned for many years. She wants to turn around and leave immediately, but her boyfriend has other ideas.
Lakeforth Hotel has a dark history. Almost a century earlier, two young girls were orphaned in a horrific fire, and they were quickly taken in by the hotel's owner Jobard Nash. They soon discovered that Nash was a cruel and sadistic man, and now it's said that the ghosts of those two girls haunt the hotel. But what do they want, and how far will they go in their hunt for revenge?
The Ghosts of Lakeforth Hotel is a horror novel about a girl who wants revenge for her murder, and about a woman who discovers years later that the living can never escape the clutches of the dead.
Click here to get this book for FREE
° ° ° ° ° ° ° ° ° ° ° ° ° °
Amish Pie Recipes
by Mary Jameson


(8 Reviews)
Genre: Cookbooks, Food & Wine
FREE for a limited time
When the Amish settled in Pennsylvania, they brought their love of pastries with them. Pies quickly became a mainstay of their diet which included the famous "shoofly" pie.
"The desserts became part of our sustenance," Amish historian Abigail Marks said. "The women made pies for men when they went to work in the fields and pies when they came home."
The pies were not limited to just an after dinner dessert. They became a convenient way to feed a lot of hungry mouths.
"We used to eat pies at almost every meal," Marks said. "But that was back in the 1940s. I'm sure it goes way beyond that. There are numerous pies on the Amish menu, many of which have been forgotten."
What is presented here is the "old-school" way of doing things in the Amish country. Not all recipes come from the modern health-conscious mindset. But if certain ingredients are replaced than something would be lost in the translation. What was important here is the creation of a good pie not a low fat dessert.
Click here to get this book for FREE
° ° ° ° ° ° ° ° ° ° ° ° ° °