It just occurred to me that I had never seen a baby peacock before. GOOD GOLLY! They are adorable!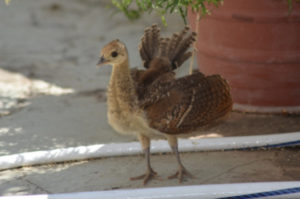 Mango Cake and Murder: A Funny Quick Read Culinary Mystery (Mom and Christy's Cozy Mysteries Book 1)
by Christy Murphy


(176 Reviews)
Genre: Humor & Satire | Mystery, Thriller & Suspense | Satire
FREE for a limited time
What do you get when you combine mango cake, murder, and Mom?
An unlikely recipe for a better life! When Mom convinces Christy to ditch her "lousy" job and help with the catering business, their fledgling partnership suffers a few setbacks. One of them can't cook, they're short a catering van, and the guest of honor at their first party is murdered.That would be bad enough, but then, Christy's cousin, Celia, becomes the prime suspect.Solving a murder is no easy task, but when drunken death threats, a dashing detective, and terrifying taxidermy are added into the mix, the case becomes almost impossible to crack. Who knew a small town like Fletcher Canyon could be filled with so much craziness? Will the disaster-prone duo find the real killer before Celia's reputation is destroyed, or will Celia end up in prison for murder? Find out in this quick comedy cozy!
This novella is the first book in the Mom and Christy's Cozy Mysteries series, and is a complete mystery that you can read in an hour or two. It does NOT contain strong language or graphic violence. But it does contain a cute cat!
Click here to get this book for FREE
° ° ° ° ° ° ° ° ° ° ° ° ° °
Time Ship (Book One): A Time Travel Romantic Adventure
by Ian C.P. Irvine


(140 Reviews)
Genre: Science Fiction & Fantasy
FREE for a limited time
A gripping time travel thriller! If you don't believe time travel is possible , this book will make you change your mind…
Who are the terrorists that have taken over an exclusive five star holiday resort in the Caribbean and are holding everyone to ransom?
What is the dangerous secret that the terrorists carry, and why must their existence be denied and covered up at all costs to protect the future of mankind?
And when you discover that the story is based upon a real research project that the United States government conducted, you will want to learn more, and may even ask 'could this really happen?'
Click here to get this book for FREE
° ° ° ° ° ° ° ° ° ° ° ° ° °
Buying Time (Dre Thomas Series, Book 1)
by Pamela Samuels Young


(357 Reviews)
Genre: African American | Literature & Fiction | Thrillers
FREE for a limited time
Waverly Sloan is a down-on-his-luck lawyer. But just when he's about to hit rock bottom, he stumbles upon a business with the potential to solve all of his problems.
In Waverly's new line of work, he comes to the aid of people in desperate need of cash. But there's a catch. His clients must be terminally ill and willing to sign over rights to their life insurance policies before they can collect a dime. Waverly then finds investors eager to advance them thousands of dollars — including a hefty broker's fee for himself — in exchange for a significant return on their investment once the clients take their last breath.
The stakes get higher when Waverly brokers the policy of the cancer-stricken wife of Lawrence Erickson, a high-powered lawyer who's bucking to become the next U.S. Attorney General. When Waverly's clients start dying sooner than they should, both Waverly and Erickson — who has some skeletons of his own to hide — are unwittingly drawn into a perilous web of greed, blackmail and murder.
Click here to get this book for FREE
° ° ° ° ° ° ° ° ° ° ° ° ° °
Fog (The 1/2986 Series, Book 2)
by Annelie Wendeberg


(55 Reviews)
Genre: Teen & Young Adult
FREE for a limited time
You don't hear death leaping at you.
But I can hear you die.
And I can see your body grow as grey and black as the soil that drinks your blood.
Sixteen-year-old Micka never signed up to be a hero. Yet, here she is – Sequencer's apprentice and about to march into battle against a terrorist organisation that vowed to wipe humanity off the planet. Or what's left of it.
She has learned to kill.
Now she must learn that the price of survival can be unbearably high.
Click here to get this book for FREE
° ° ° ° ° ° ° ° ° ° ° ° ° °
Pet Chatter
by Jeanne Miller


(11 Reviews)
Genre: Religion & Spirituality
FREE for a limited time
Finding that the Pet Chatter chapters were the most popular in my first book, The Pet Psychic Diaries, I decided to amp up the fun.
Pet Chatter is a novella length book filled with direct quotes from the pets I've spoken with over the past few years.
Read what they say about ageing and the other side.
What they think of other animals… including humans.
Receive insights from rescued and shelter pets.
Laugh at Critter Comedy and Lost in Translation, as we watch them try to navigate a very human world.
You will also get the inside scoop on behavior issues, and much more.
Enjoy!
Click here to get this book for FREE
° ° ° ° ° ° ° ° ° ° ° ° ° °
Soulful Southern Cooking: Favorite Southern Comfort Food Recipes
by Louise Davidson


(34 Reviews)
Genre: Cookbooks, Food & Wine
FREE for a limited time
Throughout the world, the Southern cuisine is known for its rich, tangy, comforting and soulful flavors. Find inside a collection of the best recipes from the Southern states.
Download FREE with Kindle Unlimited!
Each Southern cuisine recipe represents home cooking; each dish shares the traditions and hospitality of the South. Within each page, you will find a different Southern classic, starting from the basic appetizers and ending with delicious deserts, this recipe book is all that you need to master Southern cuisine.
From fried chicken to macaroni and cheese, the southern U.S. is home to some of the most unique foods and has a wide variety of flavors to offer. American Southern food has become integrated with the cultural identity of the South. Whether it is deep fried chicken or barbecued pork, American Southern food is extremely hard to resist.
Inside find:
Delicious appetizer recipes like the Coconut Shrimp or the Southern Pimento Cheese.
Comforting main entrées like the Jambalaya, Grandma's Famous Fried Chicken or the Chicken and Dumplings.
Irresistible sides like the Fried Green Tomatoes or the Fresh Corn Cakes.
Heavenly desserts that Grandma used to make like the Strawberry Shortcake or the Key Lime Pie.
Hop aboard the journey where we explore some of the best southern food flavors. Without any further wait, let's get started.
Click here to get this book for FREE
° ° ° ° ° ° ° ° ° ° ° ° ° °