With picker poles in one hand and buckets in the other, our small group made our way down the pea gravel path towards the orchard. With each step we took our buckets gently brushed  against the lavender and rosemary that lined the path, delighting our senses with their dreamy aroma. When we arrived at the little orchard we got to work immediately picking pears and apples, chatting away with each other about all the delicious dishes that could be made with these fresh fruits. Our small group filled the buckets too quickly. I was a bit disappointed that we were done so fast. I could have stayed there all day picking and chatting away. Thankfully we had plenty of work to do collecting fruits and vegetables for our charities, and this was just the beginning of what turned out to be my best day at work ever.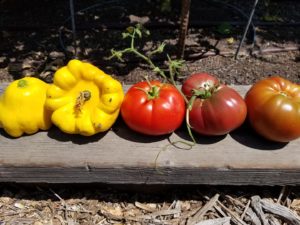 The Almost Wives Club: Kate
by Nancy Warren


(242 Reviews)
Genre: Literature & Fiction | Literary Fiction | Humor & Satire | Family Life
FREE for a limited time
Five Brides and One Enchanted Wedding Gown
Kate Winton-Jones is marrying one of America's most eligible bachelors; Edward Carnarvon III is rich, handsome and hers. But at the final fitting of her wedding gown, one of the seamstresses pricks her and a tiny blood spot appears on the outrageously expensive gown. Its famous designer fires the clumsy seamstress on the spot, whereupon the girl puts a curse on the dress and storms out. Kate doesn't believe in curses. She's modern, American and in love with the perfect guy. What could go wrong?
But that very evening she meets a man who makes her question her future. And then she discovers that Edward has been hiding a secret or two… and before she can say, "This dress is so cursed," she's on the run from Edward, his family, her mother, the paparazzi and the person she thought she was.
When she finds herself falling for a sexy private investigator, she decides it's time to throw her cautious good sense out with the satin shoes she won't be wearing. Playing it safe hasn't done her much good. Maybe it's time to play by a new set of rules. Her rules.
Kate discovers that sometimes Mr. Right isn't the one you thought he was.
Follow an enchanted wedding dress as four more women join The Almost Wives Club in this book romantic comedy series. Each is a standalone novel.
Five brides, one possibly cursed designer wedding gown — The Almost Wives Club, Book 2 Will any of these brides actually walk down the aisle in the fabulous dress?Follow five runaway brides in this romantic comedy series as they find love in the most unexpected places.
Click here to get this book for FREE
° ° ° ° ° ° ° ° ° ° ° ° ° °
The Kingdom: A Gripping Urban Fantasy: Berkeley Blackfriars Book One
by J.R. Mabry

(28 Reviews)
Genre: Humor & Entertainment | Movie Tie-Ins
FREE for a limited time
An unhinged tycoon. A lodge of evil magicians.
A plan to steal every child from the face of the earth.
Fr. Richard Kinney is having a crappy week. He's not at all sure he's the best leader for the demon-hunting Berkeley Blackfriars, his boyfriend has just broken up with him, and his last exorcism did not go well.
Kat Webber is in over her head. After discovering her brother's comatose body in the midst of a demonic ritual, her heart sinks as she realizes he was up to something sketchy, maybe even evil.
Reaching out to the Blackfriars for help, Kat and Richard uncover a lodge of evil magickians who make every avocado in the world disappear"then every dog.
It's a race against time as Kat and the Blackfriars try to stop the magickians from eliminating their next target-every child on earth.
Click here to get this book for FREE
° ° ° ° ° ° ° ° ° ° ° ° ° °
The Grave Man – A Sam Prichard Mystery (Sam Prichard, Mystery, Thriller, Suspense, Private Investigator Book 1)
by David Archer


(2,467 Reviews)
Genre: Mystery, Thriller & Suspense | Mystery | Thrillers
FREE for a limited time
Meet retired cop, Sam Prichard.
Sam Prichard was a cop, and a good one, until the bullets took out the joint of his right hip. Now he's trying to learn to live without being a cop, and getting to know his neighbors, learning to walk again and even ride a motorcycle. Life is bearable, barely, but then he gets asked to find a missing child, and the lure of getting back into some kind of police work is too much for him to resist. When he teams up with computer whiz Indiana Perkins, he suddenly becomes one of the best investigators he's ever even known.
Now, he's found the missing child, but it's thrown him right into the middle of something that may be a drug war–or could be a chance to stop the next 911! There's no way out for Sam, so he's in for the ride of his life, but when the girl he's becoming fond of is suddenly drawn into the line of fire with her own little daughter, Sam is ready to forget all the rules and do whatever is necessary to win the day.
Click here to get this book for FREE
° ° ° ° ° ° ° ° ° ° ° ° ° °
Mystic Falls (A Coyote Wells Mystery Book 1)
by Vickie McKeehan


(19 Reviews)
Genre: Mystery, Thriller & Suspense | Women's Fiction | Mystery
FREE for a limited time
Cozy mystery with a side of chocolate.
Emotionally reeling after the death of her grandmother, Gemma Channing is settling into Coyote Wells, the hometown where she grew up, after a ten-year absence. While coming to terms with the loss of her Gram, disturbing things begin to happen. Women are disappearing. Just when she begins to realize Coyote Wells has changed — and not for the better — she's forced to bump heads with Lando Bonner, her ex, a man who still carries around a grudge. But since she's digging for answers trying to explain exactly how her grandmother died, she needs his help. It won't be easy. Lando has never forgiven her for leaving him. Tensions flair between the two as a killer grips the town in fear. Is it kill or be killed? Who will the killer target next? And when will it all end?
Click here to get this book for FREE
° ° ° ° ° ° ° ° ° ° ° ° ° °
Cast Iron Dessert Cookbook: Delicious And Easy Cast Iron Skillet Dessert Recipes
by Connor Henderson
Genre: Cookbooks, Food & Wine
You'll love these cast iron dessert recipes which are easily to make. There is no time like now to break out your cast iron for a delicious dessert!
The 2017 edition is on SALE and get it right now for your next meal.
Click here to get this book for $2.99
° ° ° ° ° ° ° ° ° ° ° ° ° °