I would have a huge build up revealing the gift that hubby got me. When hubby snapped at me over the phone that where he was going after work was none of my business, I knew he was doing something super sweet! AND HE DID! You guys may remember the cool seahorse made from scrap metal that I bought from Welderup Yard Art. I have been following him on Facebook and absolutely fell in love with two new pieces that he had done. The first was a bee, and the other was the cutest robot. Hubby, just to make me smile, picked up both. It's not even my birthday!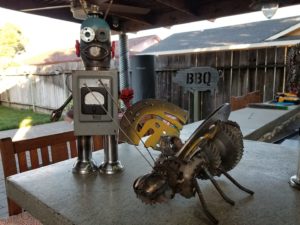 THE THOUSAND DOLLAR MAN: Introducing Colt Ryder – One Man, One Mission, No Rules
by J.T. Brannan


(126 Reviews)
Genre: Mystery, Thriller & Suspense | Thrillers
FREE for a limited time
The Thousand Dollar Man is a myth. An urban legend, his appearance prayed for by the poor and downtrodden of the United States. They say he goes from town to town, helping people who have problems. Any kind of problems.
They put adverts in their local paper, put notices up in the local stores, always hoping that one day he will walk through their town and see them, act upon them. And if he does – and as long as the client can gather together a thousand dollars to pay – their problems will disappear.
But it wasn't always that way.
Colt Ryder was let down by everyone. A military veteran, scarred both mentally and physically by his experiences in Iraq and Afghanistan, after being medically discharged he tried for years to make an honest living. But after a series of menial jobs, he was eventually fired from a meat packing factory for protecting a fellow worker from a bullying boss. And when his home was then burglarized, his savings and possessions all taken, something in him snapped.
Homeless and unemployed, driven by anger and resentment against the system, he decided to change, to revert to his old skills and cross the Americas helping those who need him, those with nobody else to stand up for them.
All he asks for is one thousand dollars a job.
Whatever it is.
Whatever it takes.
The Thousand Dollar Man is the start of an exciting, high-octane action thriller series, perfect for fans of Jack Reacher!
Novel – approx. 200 pages
Click here to get this book for FREE
° ° ° ° ° ° ° ° ° ° ° ° ° °
In An English Garden (The English Garden Series Book 1)
by Suzanne Linda


(36 Reviews)
Genre: Historical Fiction | Literature & Fiction | Coming of Age
FREE for a limited time
As the daughter of a prominent horse breeder, Catherine Billington's early life amidst the beauty of the English countryside has been rather uneventful until the death of her most beloved brother changes everything. While her middle-class existence had previously left her with few complaints and even less intrigue – save the weekly visits from the preacher's dull son – the untimely appearance of a rather mysterious new earl begins to complicate all of her social events.
Uncertain of his intentions and determined not to fall prey to his infamous charm, Catherine's plan is thwarted by fate's intervention when she and the earl are thrown into each others' company by a terrible accident.
Will Catherine be able to save her reputation from ruin, or will her time with the earl destroy her chances of returning to respectable society? Or worse still, what if he's not at all what he seems, and her previously simple life becomes even more complicated?
The first in a new series, "In An English Garden" is the author's debut novel. Set in the years between the Regency and Victorian periods, it was written for anyone who loves "Pride and Prejudice" (but may find the language of Austen a bit cumbersome for a contemporary pleasure reader), and the story remains true to the social conventions of that era while still creating engaging characters and an enjoyable tale that transcend their own time.
Click here to get this book for FREE
° ° ° ° ° ° ° ° ° ° ° ° ° °
Odyssey (Galactic Neighborhood Book 2)
by Alexander Elliott


(21 Reviews)
Genre: Science Fiction | Science Fiction & Fantasy
FREE for a limited time
Colonization of an inhabited planet is forbidden. Someone broke the rules.
Under mysterious circumstances, the colony ship, Odyssey, settled on the strangely barren world of Sahara. Eighty years later, and with no help in sight, their long-term survival is in question.
When help finally arrives, long buried secrets of the past, and the machinations of a scheming politician, threaten to upset carefully laid plans for prosperity.
Caught in the middle are the Rxyl – an elusive, telepathic species already inhabiting the planet. Unaware of the human intrigue, a fortuitous accident forges a bond between the races which will alter the destiny of both peoples forever.
Click here to get this book for FREE
° ° ° ° ° ° ° ° ° ° ° ° ° °
Here Comes the Witch (A Paranormal Witch Cozy Mystery): (Main Street Witches #1)
by Ani Gonzalez


(135 Reviews)
Genre: Romance | Mystery
FREE for a limited time
Jewelry designer Kat Ramos comes to Banshee Creek to break the infamous Hagen House curse. To do so she must marry Liam Hagen, embrace her witchy heritage, and solve a centuries-old murder. That's quite a to-do list. Will she be able to do it, or will the Hagen House curse prevail once and for all?
Click here to get this book for FREE
° ° ° ° ° ° ° ° ° ° ° ° ° °
Instant Pot Mini Cookbook
by Sarah Orwell


(20 Reviews)
Genre: Cookbooks, Food & Wine | Science
FREE for a limited time
Get healthy and save plenty of time with this Instant Pot Mini Cookbook!
By using these quick, healthy, and delicious instant pot mini recipes, you will realize that home-cooked meals do not have to be time-consuming or challenging.
This Instant Pot Mini Cookbook contains:
• Keto-friendly Recipes
• An Introduction to the Instant Pot Mini
• 14-Day Healthy Meal Plan
• Breakfast, Lunch, Dinner
• Appetizers and Snacks
• Meat & Poultry
• Soups & Stews
• Desserts and many more!
This book has tried and true recipes that are easy to whip up. Moreover, it will guide you through, the best way possible, to use your Instant Pot Mini in ways you never thought possible. It will put an end to your old and unsatisfactory routine! So, get a copy of Instant Pot Mini Cookbook today!
Click here to get this book for FREE
° ° ° ° ° ° ° ° ° ° ° ° ° °