Me two years ago: I want a German Sheppard to guard this house and family. They are smart and loyal. A dog has to have a job in this house. I am not taking on any free loaders. Me today: Honeeeee! I think we need to get another Chaweenie!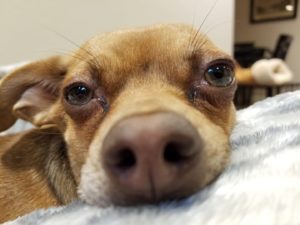 The Desolate Garden
by Daniel Kemp


(34 Reviews)
Genre: Literature & Fiction
FREE for a limited time
After Lord Harry Paterson is summoned to London following his father's murder, he discovers an age-old secret and must ascend into his family's true inheritance.
Digging deeper, he finds out that his late father, Lord Elliot Paterson, had discovered a hidden ledger dated all the way back to 1936… and a vast quantity of money erased from the accounts. Mysterious initials and an address in Leningrad – a major port in former Stalin's Soviet Union – are his only clues.
Together with the attractive Judith Meadows, Lord Harry must unravel the mysterious death of Lord Elliot – and figure out the mystery hidden in the files of the Royal Government Bank.
Click here to get this book for FREE
° ° ° ° ° ° ° ° ° ° ° ° ° °
Wine Thief
by Mary Billiter, Hot Tree Editing, Soxsational Cover Art


(42 Reviews)
Genre: Literature & Fiction
FREE for a limited time
What happens when a corporate spy clashes with a woman he can't help but fall for? In Mary Billiter's witty novel of deception and heat, a red-hot suit and a beautiful academic are linked by a vineyard and the mystery surrounding its origins.
Chloe Dorsey places her belongings in storage, puts Southern California in her rearview mirror, and heads to her sister's home in Northern California for a fresh start. As one of the newly hired wine educators at the Napa Valley Point Resort and Winery, Chloe's knowledge of wine is as limited as her income.
Anthony "Tony" Mahoney has one objective — to locate the Mother Vine, the source of the rare and award-winning wine that can only be found at the Napa Valley Point Resort and Winery. His talent for stealing secrets is tested when he makes an unlikely alliance with the one woman who could destroy all his plans.
Can Chloe stop the wine thief, or will she have her heart crushed in the process?
Click here to get this book for FREE
° ° ° ° ° ° ° ° ° ° ° ° ° °
Heroes of the Fallen
by David J. West


(31 Reviews)
Genre: Literature & Fiction | Metaphysical | War
FREE for a limited time
In a world at war, who will rise to become the heroes of the fallen?
It is the last days of the great Nephite nation and their civilization teeters on the brink of devastating war. Their blood-enemies and rival nation, the Lamanites, have sworn their destruction. As the conflict unfolds upon this ancient American landscape, courageous heroes fight to defend their people against ruthless forces of evil.
Amaron and his Ten Scouts, Zelph the White Lamanite, and Anathoth the Lamanite general–all must face the Gadianton Master Akish-Antum, as he orchestrates the greatest terror the land has ever known.
Click here to get this book for FREE
° ° ° ° ° ° ° ° ° ° ° ° ° °
The Bridal Train Murder (Mail Order Bride Cozy Mystery Romance Book 1)
by Terri Grace

(13 Reviews)
Genre: Religion & Spirituality
FREE for a limited time
1884, Pittsburg. When Betty Muller's parents die untimely deaths due to the heartlessness of their employers, Betty is forced to take their place on the factory line or run away. She flees to find help from Mrs. Molly White, proprietor of the Cozy Bridal Agency.
Amateur Sleuth and champion of the underdog, Molly, organizes for Betty to marry a fine man on the Frontier.
When Benjamin Warner, the wicked factory owner's son, turns up at the train station destined to travel on the same train West, Betty fears for her future. When Benjamin later turns up dead in his private carriage, all fingers point to the grieving Betty.
Can Molly, and Betty's waiting husband, unravel the mystery and expose the real culprit before Betty faces swift Western justice? Or will Betty's marriage to her intended never take place?
Bridal Train Murder is a Mail Order Bride Cozy Mystery Romance that will keep you guessing right to the end.
Click here to get this book for FREE
° ° ° ° ° ° ° ° ° ° ° ° ° °
Elvish: A Fantasy Novel (Elvish, Book 1)
by S.G. Prince


(17 Reviews)
Genre: Science Fiction & Fantasy
FREE for a limited time
It's against the law for elves and humans to fall in love. But laws can be broken.
When Venick is caught wandering the elflands, he knows the penalty is death. Desperate, he lies about his identity in hopes the elves will spare his life.
Ellina doesn't trust the human, and not merely because he speaks the language of men. Men lie. In elvish, however, lying is impossible. In a moment of intuition, Ellina decides to give Venick a chance: learn elvish, reveal his truths, and she will set him free.
That is not, of course, what happens.
As Ellina and Venick grow to know one another, their feelings start to shift. Then Venick uncovers a dark secret, and suddenly the fate of the elflands seems to rest in his hands. But every choice comes with consequences, and Venick must decide if it's worth risking his life to protect a race that hates him, all to save an elf he's not allowed to love.
Magic, love and fate collide in this fantasy adventure from S.G. Prince. For readers who love fast-paced action with a side of romance, Elvish is the first novel in a three-part series.
Click here to get this book for FREE
° ° ° ° ° ° ° ° ° ° ° ° ° °