In France, or maybe most of Europe, dinner does not start until 7pm. It had been a long day for everyone and the baby bassets were too exhausted to go out for dinner. We decided that Oma and the boys would stay in for dinner while the rest of us ventured  out and had dinner a few blocks away from the Air B&B. We found a nice little place and settled in. We didn't have the biggest appetite, but the hubbies wanted Steak Tar Tar. So we settled on one plate of Steak tar Tar, a cheese platter, and a charcuterie. If we wanted more we could always order later. At home, I am accustomed to cheese platters having a few different cheeses, and the charcuterie usually has an assortment of about 3 or 4 slices of each. NOT IN FRANCE! I knew was were in trouble when the waiter came by and put a brace on the side of the table. He returned a few minutes later with about ten pounds of meat in a basket. We were all confused. Were we supposed to eat all of that? Do people need that much meat? If we don't finish, do we get a doggie bag? I was really hoping for yes on that last question. We all busted up laughing so hard at that huge basket of meat. The people next to us ordered the same thing, and their basket looked exactly the same. Was this a competition? When the waiter returned we asked if people eat this much meat? With a straight face he said, yes yes, and if you need more just ask. We did not.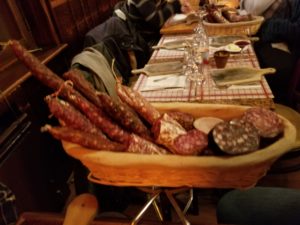 A Mind Reader's Christmas: An Eric Beckman Mystery
by Al Macy


(135 Reviews)
Genre: Literature & Fiction | Holidays | Mystery
FREE for a limited time
Eric Beckman, a mind-reading private investigator, is spending Christmas in snowy Vermont with his wife and daughter. He needs a break from solving cases, but the townspeople convince him to look into the village mystery: Every holiday season, someone switches the baby Jesus with one of the other figures in the town's nativity scene.
With the help of his ten-year-old daughter, also a mind reader, he soon learns that some of the residents of the small town are not who — or even what — they seem to be. There's something supernatural going on in Newburn, Vermont.
His investigation causes an escalation of strange happenings, and soon, swapped manger figures are the least of the town's worries. If Beckman can't adjust his view of the world — force himself to believe in things he never thought possible — the Christmas vacation could turn out to be his family's last.
A Mind Reader's Christmas may be read as a standalone book or as Book Four in the Eric Beckman series.
Click here to get this book for FREE
° ° ° ° ° ° ° ° ° ° ° ° ° °
Breathe
by Amber Lacie


(118 Reviews)
Genre: Literature & Fiction
FREE for a limited time
A Coming of age love story of life long friendship and second chances.
Sometimes love is fated in the stars. You know you are destined for each other. Your souls entwine and you can't imagine your life without them.
Sometimes it's found when you're not looking for it. It peeks around the corner when you least expect it, sweeping you off your feet, carrying you off into the sunset.
Sometimes, there are a lucky few who get to experience both. I was one of the lucky ones.
Click here to get this book for FREE
° ° ° ° ° ° ° ° ° ° ° ° ° °
The Resistance (The Uncloaked Trilogy Book 1)
by J. Rodes

(44 Reviews)
Genre: Teen & Young Adult | Religious & Inspirational Fiction
FREE for a limited time
One question will redefine everything. Will you stand?
Braxton Luther is sixteen when the Progressive Reform Party takes over the government. He can't understand his best friend Eliza's panicked reaction, or his father's cryptic warning — "Apathy is the illness of the overprivileged" — a not-so-subtle challenge to stand against the Party's demand for unquestioning and undivided loyalty. It can't be that bad, can it?
After a year of living under the Party's rule, he's not so sure. Only those who show the demanded allegiance receive the socialized rations of food or participate in the new educational system. For the rebellious, the resistant, the noncompliant? Reformation camp.
Not much is known about the reformation camps, but those who are sent there are never seen again. The solution seems oh-so-simple. Swearing allegiance takes just a signature on a paper. Just words. Braxton only wants the American dream — success, comfort, happiness. If checking a box and taking the Party's seal will keep that hope alive, so be it.
When the rumors about the Party's reformation tactics are confirmed by a brutal public killing, protecting Eliza becomes Braxton's sole focus. She refuses to comply with the Party, which is a problem because he's pretty sure she's the girl he can't live without. But then he discovers the threat against Eliza — the threat against all of the Uncloaked — is so much darker than simple death. Reality finally sinks in.
Defiance is no longer optional.
Click here to get this book for FREE
° ° ° ° ° ° ° ° ° ° ° ° ° °
Rising Thunder: The Warrior's Trilogy, Book 1 (Dynasty of Storms)
by Brandon Cornwell


(53 Reviews)
Genre: Fantasy | Literature & Fiction | Action & Adventure
FREE for a limited time
PARENTAL ADVISORY: MATURE CONTENT
Book 1 of the Warrior's Trilogy
Elias is no ordinary elf. A giant amongst his kind, he dwarfs not only his fellow elves but the taller, stronger humans as well. Cast out by his own kind, he was sent to live amongst the Northmen at a young age, learning their ways and culture, but never wholly accepted by them. When his oldest friend, King Brynjar, dies in his old age, Elias's position among the volatile men of the Northlands becomes tenuous, and he sets out to make his place in the world.
Far to the south, a war is brewing between his homeland of Lonwick, and the demonic Felle, an army of orcs, ogres, trolls, and men. Should he stay to the north and avoid the conflict, or should he travel south and join the forces that are defending his homeland? Who is the shadowy dark knight that hunts him? And will he ever find people in this world that see him for who he is, and not the freak he appears to be?
From the warm, forested slopes of coastal mountain ranges, to the tropical shores of exotic islands, author Brandon Cornwell leads us on an adventure filled with battles, magic, love, and loss. As Elias faces the journey before him, rich characters and vivid settings transport us into a world that feels as real as it does fantastical.
Click here to get this book for FREE
° ° ° ° ° ° ° ° ° ° ° ° ° °
Knight of the Cross: A Forest Lord Tale featuring the Knights Hospitaller
by Steven A. McKay


(51 Reviews)
Genre: History | Religious & Inspirational Fiction
FREE for a limited time
"Dagon is coming… "
Rhodes, AD 1309.
The good Knights of St John battle ancient evil as mysterious, unsolved disappearances and insane devil-worshippers threaten to turn the whole island into a bloodbath…
When three heavily armed Hospitaller knights go missing from a sleepy village their Grand Master sends legendary hero Sir Richard-at-Lee and his sergeant-at-arms to discover their fate. Met with resistance from terrified locals, and whispered rumours of a blasphemous sect performing strange rites underground, Sir Richard finally realises he must defeat not only the cultists, but the faceless, unstoppable demon that haunts his dreams.
Fans of the Forest Lord series will enjoy this explosive spin-off novella that sees the much-loved English knight up against a foe that threatens his life, his sanity, and even God Himself.
Click here to get this book for FREE
° ° ° ° ° ° ° ° ° ° ° ° ° °