I'm stressing out over a cake. I found the most AMAZING cake yesterday at my local market. I asked the baker how much it was, and she said it was $32. That's the regular price for their regular season cakes. Not this magnificent Easter Cake shaped like a log with a bunny's butt sticky out one end. Worried she might realize her mistake, I ordered and paid for the cake. I won't be able to pick it up until Saturday. I don't think I did enough to ensure I get that cake.  I don't want the other stump cake, I want the log cake with the bunny butt. I MUST HAVE THE BUNNY! Even if it's only part of the bunny. Seriously, both cakes would taste delicious and in the end I will still get to have a wonderful cake on Easter. NOPE… I didn't convince myself to calm down. I'm going to give the bakery a call.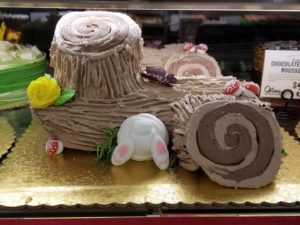 The Hangman's Daughter: (A Hangman's Daughter Tale Book 1)
by Oliver Pötzsch, M.S. Corley, Lee Chadeayne


(5,301 Reviews)
Genre: Literature & Fiction | Action & Adventure | Mystery | Thrillers
FREE for a limited time
Germany, 1660: When a dying boy is pulled from the river with a mark crudely tattooed on his shoulder, hangman Jakob Kuisl is called upon to investigate whether witchcraft is at
play in his small Bavarian town. Whispers and dark memories of witch trials and the women burned at the stake just seventy years earlier still haunt the streets of Schongau. When more children disappear and an orphan boy is found dead — marked by the same tattoo — the mounting hysteria threatens to erupt into chaos.
Before the unrest forces him to torture and execute the very woman who aided in the birth of his children, Jakob must unravel the truth. With the help of his clever daughter, Magdelena, and Simon, the university-educated son of the town's physician, Jakob discovers that a devil is indeed loose in Schongau. But it may be too late to prevent bloodshed.
A brilliantly detailed, fast-paced historical thriller, The Hangman's Daughter is the first novel from German television screenwriter Oliver Pötzsch, a descendent of the Kuisls, a famous Bavarian executioner clan.
Note: This book contains images that some readers may find disturbing.
Click here to get this book for FREE
° ° ° ° ° ° ° ° ° ° ° ° ° °
Forever and Ever Boxed Set: Books 1-3
by E. L. Todd

(440 Reviews)
Genre: Romance
FREE for a limited time
I'm in love with Skye Preston.
The Skye Preston.
The daughter of the wealthiest businessman in the world, and the most beautiful woman I've ever known. Her looks don't compare to her golden heart. And her heart doesn't compare to that big brain of hers.
But I could never tell her.
Because we've been best friends for twenty years.
She has a jerk for a boyfriend, and I'm not the only one who thinks so. The rest of the gang can't stand him either. But I'm not the kind of guy to intervene. I respect her too much to pull a stunt like that.
But then I spot her at a party, too drunk to even walk. The men are eyeing her like easy prey so I take her home. But when we get there Skye is different. She looks at me differently. She touches me differently.
And she wants me differently.
Click here to get this book for FREE
° ° ° ° ° ° ° ° ° ° ° ° ° °
Heist (The Sword-Mage Chronicles Book 3)
by Ell Leigh Clarke


(32 Reviews)
Genre: Teen & Young Adult | Women's Fiction | Fantasy
FREE for a limited time
Working together has never been a strong suit for exiled gods.
Particularly when it comes to working with new people… human people. People who have their (now) mortal lives in their hands.
To make matters worse, when Bentley uncovers a plot that goes deeper than just the quick heist they've been hired for, things start to unravel fast.
A plot that could mean not just the enslavement, and death, of the ALF (Artificial Life Forms) they decide to rescue, but the human population at large.
But first she has to figure out who she can trust.
Will she be able to persuade everyone to work together?
Can she protect her team from an ensuing showdown of blasters and bullets?
And will she see the bigger picture before it's too late?
Click here to get this book for FREE
° ° ° ° ° ° ° ° ° ° ° ° ° °
Jasmine Steele Mystery Series Collection Books 1-3 (The Jasmine Steele Series)
by Kimberly Amato, David Maddux


(33 Reviews)
Genre: Mystery | Mystery, Thriller & Suspense
FREE for a limited time
THREE HEART-STOPPING POLICE PROCEDURALS AT A KILLER PRICE!
This nicely-priced bundle of Volumes 1-3 of Kimberly Amato's Jasmine Steele series is made to order for fans of hard-boiled police procedurals, badass female sleuths, and bargains. Those who can't get enough of the exciting new wave of hard-boiled women sleuths, created by writers like Megan Abbott, Laura Lippmann, Lisa Lutz, and Vicki Hendricks will love Amato's take-no-prisoners style, her unflinching attention to harrowing detail, and her tough-as-nails but soft-hearted detective.
Lovers of traditional mysteries will appreciate the web of fierce loyalty tempered with fearful caution that links Jazz's tiny but hardy support system — both at work and at home. Somehow or other, in each book, Amato manages to mix all the excitement of an action thriller with the swirling emotions of a mainstream psychological novel.
STEELE RESOLVE
"Don't think you're untouchable… you or your son." Then a dial tone… Home is no haven with that that kind of caller on the line. Shrewd, hardened New York homicide detective Jasmine ("Jazz) Steele's just come back from a grisly crime scene involving the body of a brutally-beaten young girl, the second she's investigated this week. That was horrendous, but with these eight words, ending ominously in "your son," Jazz's immediate fear is for her nephew Chase, who's already been through hell in his seven short years. In Kimberly Amato's hard-boiled yet deeply emotional police procedural, no one is spared tough breaks and turbulent anguish. A lesser cop than Jazz would barely be able to cope.
With a shadow on Chase and the aid of her friends' grace-under-fire and brandy-fueled heart-to-hearts, Jazz–who has more 'tude than even the toughest investigator, male or female–navigates the cruel streets of New York City while struggling to keep custody of the only family she has left, doggedly in search of the elusive, psychopathic murderer who seems to be killing off women who look suspiciously like someone close to Jazz… and she's not willing to lose yet another person she loves.
MELTING STEELE
In Jasmine Steele's heartbreaking new case, an entire family's been viciously murdered. Hard-boiled alert: author Kimberly Amato pulls no punches.The mother's throat was slit while trying to call for help and the father was shot in the chest, then gruesomely sliced up while still alive, like a scene from a horror film. Also found, the body of their young son, about Jazz's son's age, left in the closet with a snapped neck.
But it's the remaining clues to a missing fourth victim–a teenage daughter named Kaley–that leave her reeling. Kaley's seemingly disappeared without a trace.
Soon Jazz discovers that the family had plenty of disturbing skeletons in its closet. Skeletons possibly warranting hiring a hit man on the Internet…
BREAKING STEELE
Gory video game violence comes home to roost when two store managers are brutally murdered in the back room of their gaming shop just before peek holiday season. The corporation that owns the store is doing everything it can to keep the matter quiet — but they won't succeed if detective Jasmine Steele cracks the case. Because said corporation has plenty of skeletons in its closet; and one of them is far too familiar to our heroine…
Kimberly Amato serves up a heart-pounding, chilling addition to the Jasmine Steele hard-boiled mystery series — a fast-paced police procedural that's as gripping as it is eerily personal. And it comes with a captivating (although, as Jazz might say, a slightly "nerdy") bonus: a heaping dose of the fascinating ins and outs of video game subculture. Which is far more murderous than the average reader would suspect.
Click here to get this book for FREE
° ° ° ° ° ° ° ° ° ° ° ° ° °
The French Revolution: A Captivating Guide to the Ten-Year Revolution in France and the Impact Made by Napoleon Bonaparte
by Captivating History


(15 Reviews)
Genre: History
FREE for a limited time
Explore the Captivating History of the French Revolution
Few historical events are as greatly revered and entirely misunderstood as the French Revolution that began in 1789. The memory of this complicated and lengthy political, violent uprising has been generally painted in broad — and oversimplified — strokes.
While the French Revolution was certainly centered around two lavish monarchs and an enlightened common class, there was so much more going on behind the scenes. Even after the abolition of the French monarchy, France struggled to find a balance between public self-governance and European stability. A fragile government, merely a shell of its former self following the Reign of Terror under Robespierre, was no match for the military and political prowess of Napoleon I.
In The French Revolution: A Captivating Guide to the Ten-Year Revolution in France and the Impact Made by Napoleon Bonaparte, you will discover topics such as
• A Brief History of the French Monarchy
• Philosophies of the Times
• France in the 18th Century
• Marie Antoinette, Madame Deficit
• Taxes, Famine, and the Enlightenment
• Sieyes' "What is the Third Estate?"
• The National Assembly
• Death of the Dauphin
• Bastille Day
• The First Mayor of Paris
• Declaration of the Rights of Man… and The Women's March
• France at War
• The Flight to Varennes
• Storming the Tuileries
• The Monarchy is Outlawed
• The Fate of the Colonies
• The Louisiana Purchase
• The Reign of Terror
• The New French Calendar
• Emperor Napoleon Bonaparte
• In the Days and Years Afterward
• And much, much more!
Click here to get this book for FREE
° ° ° ° ° ° ° ° ° ° ° ° ° °