Our sweet, very cute, and wonderful puppy Casper decided that it was time to play at 2:30 this morning. His high pitched bark for five minutes straight made it very clear he wasn't taking no for an answer. So there I was at 2:30 this morning starting my day, because a little puppy really wanted to play with his toy owl. I am not going to lie, I have a favorite dog right now. I will give you a hint. She was the one sleeping at 2:30 this morning. I know you are never supposed to say who your favorite one is, but a 2:30 wake up call gives me all the right in the world. He looks like a sweet little angel napping in his little cat bed right now. Would it be horrible for me to start barking at him and drag him out of bed? Ya? Are we sure? (heavy sigh) Fine.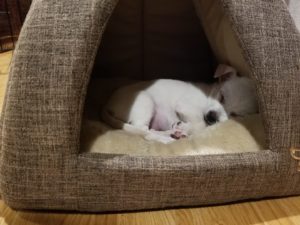 To Kill a Shadow: An Espionage Action Thriller (An Arik Bar Nathan Novel Book 2)
by Nathan Ronen


(35 Reviews)
Genre: Literature & Fiction
FREE for a limited time
Love, and assassination in a Mossad thriller told from the inside
Life had been fortunate for Arik Bar Nathan. From a poor apartment in downtown Haifa, he had risen to become head of Operations Division of Israel's intelligent services, 'the Mossad'. He is a daring and successful man that has led missions all around the world and fulfilled every goal and desire. Now, his life is about to change.
A delightful tapestry of intrigue, wit, and dare that enthralls from start to finish
A failed Mossad operation against a Hezbollah official in South America makes Arik a target for a vicious drug-trafficking mafia in Paraguay. A mysterious German woman – an alluring professor of Philosophy – arrives at his birthday party and captures his eye and his heart. He is the son of a Holocaust survivor, and he knows falling in love with this woman means trouble. When a trained assassin arrives in Israel dressed as a Provo Slav clergyman hunting for his head, nothing can save Arik but true love.
Real and unpublished inside information on Mossad operations
To Kill A Shadowis a brilliant espionage thriller that will leave you breathless. It is the remarkable story of those who live in the shadows, working under false identities and behind masks, addicted to the adrenaline and control. An intricate tale of passion, difference, and danger.
Click here to get this book for FREE
° ° ° ° ° ° ° ° ° ° ° ° ° °
David & Avshalom: Life and Death in the Forest of Angels
by Bernard Mann

(13 Reviews)
Genre: Biographies & Memoirs | Historical Fiction | Religious & Inspirational Fiction
FREE for a limited time
This telling of the life and times of David the king goes well beyond the typical story line, into the exploration of little known story arcs — the adoption by David of the Hittites' compound bow and large archer companies enabled Israel to throw off Philistine domination. His friendship with Hiram of Tyre and other rulers led to never-broken peace and successful maritime engagements with the Phoenicians. His willingness to help defend Canaanite Taanach signaled peace with Canaanites and his marriage with Maacah allowed peace with Geshur, other peoples of the north. Even more striking was his respect for women writers, including Judith, who wrote much of the books of Genesis and Exodus (See Bloom's the Book of J), and Seraiah (my name for this author), who wrote the Book of Ruth. The roles of Bathsheba in Palace affairs and Maacah in her tragic sorrow over son Avshalom's (Absalom's) rebellion are illuminating. All in all, this saga is one of high drama and warm insights into personal and national life in ancient Israel.
Click here to get this book for FREE
° ° ° ° ° ° ° ° ° ° ° ° ° °
Forgotten: The Lost Children Trilogy Book 1
by Krista Street


(293 Reviews)
Genre: Teen & Young Adult
FREE for a limited time
Forgotten memories. Supernatural abilities. Mysterious tattoos.
Four months ago, Lena woke up in a dark alleyway with no recollection of who she is. The only clues to her past are a mysterious tattooed symbol and a supernatural power: the ability to see evil in people.
While struggling to regain her memory, she follows a strange guiding instinct to a small Colorado town. There she finds other young men and women with similar stories, similar tattoos, and a multitude of extrasensory powers. Among them a man she's intensely attracted to, yet with no memories of him, she has no idea why.
As Lena and the others explore their powers and try to figure out who and what they are, they make a frightening discovery. Those who know the answers to their questions are hunting them. And if they find them, these superhumans may not survive.
Click here to get this book for FREE
° ° ° ° ° ° ° ° ° ° ° ° ° °
The Social Tutor: A Regency Romance (Branches of Love Book 1)
by Sally Britton


(116 Reviews)
Genre: British | Holidays
FREE for a limited time
Her social graces are lacking, his finances are in ruin, but together they can solve both their problems. As long as they don't fall in love.
After years of escaping etiquette lessons in favor of the stables, Christine Devon's grand debut in London is only weeks away, though her deportment lacks the sophisticated polish she needs to achieve her goals of a lofty marriage. Desperate to take her place in society, she needs someone to instruct her in proper behavior.
Thomas Gilbert, newly returned from Italy, is ready to begin his dream of founding a horse farm. But during his time away, the estate's finances have dwindled to almost nothing. Unless he can find a way to save his family from ruin, he will be forced to sell his horses and give up his dreams entirely.
A chance meeting between them may solve both their problems. Christine gains a tutor in the finer arts of polite behavior, while Thomas is given access to the finest bloodlines in England. But as time passes, the arrangement is less about business, and more about love. Will they see it in time, or will Christine leave Thomas behind for the splendor of London's ballrooms?
Click here to get this book for FREE
° ° ° ° ° ° ° ° ° ° ° ° ° °
The Blueprint (The Upgrade Book 1)
by Wesley Cross


(29 Reviews)
Genre: Science Fiction | Mystery, Thriller & Suspense | Thrillers
FREE for a limited time
A technology that can change the future.
A political coup.
And a deadly cyborg on the loose.
JASON HUNT has everything money, and status can buy. After inheriting a fortune, he married a beautiful woman and settled to live the life dreams are made of.
But when his wife lands her dream job in New York working on human augmentation, JASON feels threatened and suspects criminal activity.
Before long his wife's life hangs in the balance, and he finds himself immersed in a terrifying world of computer hackers, psychotic killers, and warring corporations.
To save her he needs to embrace technology he doesn't understand, take over a billion-dollar company without a billion dollars, outsmart professional assassins, and land a contract with the DOD. But even that might not be enough.
Pick up THE BLUEPRINT–the first book in THE UPGRADE series set in a dark, near-future world that will appeal to fans of Blade Runner, The Matrix, and Deus Ex!
Click here to get this book for FREE
° ° ° ° ° ° ° ° ° ° ° ° ° °