I put this sign above my doorbell yesterday. I realized my doorbell was broken, and I really wanted fresh baked cookies. Soooo…. one stone, two birds kinda thing ya know?  I had three people knock and my door after the sign was put up, and none of them had fresh baked cookies when I opened the door. Maybe I should take out the part of fresh baked. There are plenty of store bought that are delightful. If that doesn't work, I really don't know what I am going to do. Do I still open the door if I can see that they don't have cookies? What kind of message is that sending? I am at a loss. I think I am getting ahead of myself. I am going to start with taking out the fresh baked clause and see what kind of response I get.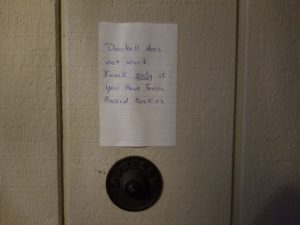 Between Jobs (The City Between Book 1)
by W.R. Gingell


(102 Reviews)
Genre: Fantasy | Mystery
FREE for a limited time
When you get up in the morning, the last thing you expect to see is a murdered guy hanging outside your window. Things like that tend to draw the attention of the local police, and when you're squatting in your parents' old house until you can afford to buy it, another thing you can't afford is the attention of the cops.
Oh yeah. Hi. My name is Pet.
It's not my real name, but it's the only one you're getting. Things like names are important these days.
And it's not so much that I'm Pet.
I am a pet.
A human pet: I belong to the two Behindkind fae and the pouty vampire who just moved into my house. It's not weird, I promise — well, it is weird, yeah. But it's not weird weird, you know?
Click here to get this book for FREE
° ° ° ° ° ° ° ° ° ° ° ° ° °
Chief Cook and Bottle Washer (The Travers Brothers Series Book 1)
by Rita Hestand


(312 Reviews)
Genre: Literature & Fiction | Contemporary Fiction | Romance
FREE for a limited time
Emma Smith hadn't been straight with her new boss, but he hadn't given her much of a chance to explain. Trapped in her own lies and uncertainties Emma was running in fear of losing her baby. Deke Travers, oldest son on the 4 Bar None Ranch, needed one thing to make his life more peaceful, his brothers to settle down and get with the business of ranching. There was only one solution, marry them off to country girls. And Emma will be the first bride on the 4 Bar None Ranch.
Click here to get this book for FREE
° ° ° ° ° ° ° ° ° ° ° ° ° °
Genesis Code: Book 1, Genesis Series
by Eliza Green

(519 Reviews)
Genre: Science Fiction | Literature & Fiction | Political
FREE for a limited time
First an alien species emerged from the shadows. Then his wife disappeared…
Bill Taggart is done following rules. After losing his wife and his last shred of happiness on humanity's new home, he focuses his attention on the hostile alien race living there. Sent to observe them before a population transfer from Earth, Bill hopes to find a clue to explain his wife's disappearance. But when his study of the non-aggressive natives clashes with official reports, the investigator suspects there's more to this relocation.
Laura O'Halloran hates to deviate from the rulebook. But when she uncovers a sinister government conspiracy involving the aliens and Bill Taggart's wife, she knows she can't stay silent. The truth not only puts the entire transfer plan at risk, but the investigator's life too.
As two worlds slip deeper into chaos and with time running out, Laura must locate Bill fast before her government sets its horrifying plans in motion.
Genesis Code is the first novel in the captivating dystopian/post-apocalyptic sci-fi series GENESIS. If you like incredible world building, complex characters, and disturbing secrets, then you'll love Eliza Green's intricately woven, dystopian series.
Click here to get this book for FREE
° ° ° ° ° ° ° ° ° ° ° ° ° °
After the Rain
by Rita Gerlach


(41 Reviews)
Genre: Religion & Spirituality | Historical Fiction
FREE for a limited time
It's 1908, a year in the Edwardian Age, the year J.M. Barrie's play 'What Every Woman Knows', premiered in Atlantic City and the first Model T rolled off the assembly line in Detroit. It is a year when the world faced one of its worst disasters in history, when the New Year would heal the wounds of loss.
Louisa Borden lives a privileged life in Chevy Chase, Maryland, a new and thriving community on the outskirts of Washington, DC for the well-to-do. Against the wishes of her domineering grandmother, she retreats from the prospects of a loveless marriage and instead searches for what she hopes is her calling in life.
When her horse is spooked along Rock Creek, she is thrown from the saddle — an embarrassing situation for any affluent young lady. Soaking wet, bruised and humiliated, she is carried up the muddy bank to safety by Jackson O'Neil, a stranger to the city, who changes the course of everything, including the lives of all those around her.
Click here to get this book for FREE
° ° ° ° ° ° ° ° ° ° ° ° ° °
Sit for a Spell: Witch Cozy Mystery (The Kitchen Witch Book 3)
by Morgana Best


(57 Reviews)
Genre: Mystery, Thriller & Suspense
FREE for a limited time
A fun witch cozy mystery!
Amelia Spelled is playing Clue at Camino's house when one of the guests drops dead in the dining room. There was no sign of weapons, so was it Amelia's food? Or something just as unpleasant but more sinister?
The police arrest Camino, so Amelia and her friends are faced with the task of sifting through the suspects.
Will Amelia's attempts to solve the murder be half-baked?
What will Amelia do when she finally discovers Alder's dark secret?
All Morgana Best books are clean cozy mysteries.
Click here to get this book for FREE
° ° ° ° ° ° ° ° ° ° ° ° ° °