I had a cake like object for breakfast, and right now I am eating a cake like object for lunch. It is a wonderful day for a few reasons. The main one is it is socially acceptable to eat cake for all your meals, and secondly tonight we say goodbye to the Narc on the Shelf. ELF!! I mean Elf. The fact that he watches us all day, then runs off to Santa to report our behavior does not make him a snitch. Tattle Tale. Jerk. Every day in the month of December I see him smiling at us, judging. I'm watching yoooooooooo. Don't be naughty or Santa will be very cross with yooooo. Although, I might feel differently if Jason Momoa was our Elf. He looks like he could lift stuff, or maybe help around the house. Those gutters need a good cleaning. I'm just saying! If they elf would maybe pitch in a bit while he is staying for a whole month RENT FREE, it would be nice if he could lend a hand.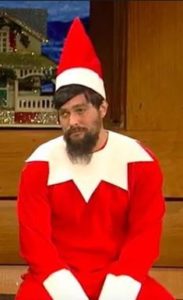 The Tales of Master Trey's Flawless Outlaws
by Robert Jay Arnold

(20 Reviews)
Genre: Fantasy | Literature & Fiction | Action & Adventure
FREE for a limited time
Who are Master Trey's Flawless Outlaws?
Mr. Cai – A middle-aged, divorced man who's been buried in his work for most of his life
Simon – A hip-hop artist and a world traveler
Ayuko – A smart young girl, who excels at her job at the news
Letlo – A forensics specialist who always keeps his cool
Shane – A cop who feels bound by his duties, which are becoming increasingly unclear
Amanda – A party girl with dreams of settling down
Seven – A Korean youth that is not finding the academic world is enough to hold his attention, and begins to pursue the roots of his unique martial arts style instead
Forest – A country boy who loves to hunt and spend time outdoors
Celia – A high school girl who is finding that her martial arts training is starting to interfere with her superficial lifestyle
They are seemingly ordinary individuals with everyday problems. As unexplainable, eerie events begin to take place all over the world, they all will need to put their martial arts skills to the test.
Even though they are from different parts of the world, they soon realize that their problems are connected, and that Master Trey may be the only one with answers. But getting to him is only the first step in their journey, and will not be an easy one.
Click here to get this book for FREE
° ° ° ° ° ° ° ° ° ° ° ° ° °
Foul Wind: Havoc in Hancock Humorous Suspense
by Kathy McIntosh


(7 Reviews)
Genre: Literature & Fiction | Humor & Satire | Mystery
FREE for a limited time
Noses wrinkle in Hancock, Idaho, when a foul wind blows from the new wind turbine at a nearby hog farm. When a blackmailer threatens to reveal secrets about the development and its investors, suspicion falls on Feather Sullivan and her sister, compelling their mother to meddle. Meddling on a hog farm can get messy!
When the blackmailer is revealed as her sister's lover and is murdered, Feather and a hunky PI seek answers while trying to keep her snooping mother from becoming another murder victim. From the award-winning author of Mustard's Last Stand, the debut novel called "an absolute charmer" and "a totally fun read with non-stop plot surprises and humor."
Click here to get this book for FREE
° ° ° ° ° ° ° ° ° ° ° ° ° °
Savant: Book 1 of Luminether, an Epic Fantasy Series
by Richard Denoncourt


(69 Reviews)
Genre: Teen & Young Adult | Fantasy
FREE for a limited time
A fresh, new fantasy world based on Greek myths…
Incredible powers passed down from ancient gods…
A world-saving adventure unlike any other…
___________________________
On the summer of their fourteenth birthday, twins Milo and Emma Banks will find themselves in a pickle of epic proportions. Hunters from another world have broken up their family, and the twins find themselves stranded in a mythical world where light and dark magic collide.
It's a world where orange-eyed teens can transform into any animal after drinking its blood…
Where magicians can manipulate the world through magic, and sorcerers can tame the wild elements…
Herculean fighters with bulletproof skin can throw enormous boulders hundreds of feet through the air…
And winged, angel-like healers can fly and cure the most deadly wounds…
Milo and Emma will discover they aren't human. Instead, they are each one of the four godlike races, thanks to their legendary parents. In the quest to restore their family, they will discover something else – a dangerous truth: they are demigods in a world where those directly descended from the ancient gods is a crime punishable by death.
How long can they survive before the ruthless emperor who tore apart their family finds them?
Click here to get this book for FREE
° ° ° ° ° ° ° ° ° ° ° ° ° °
To Hell and Gone in Texas (An Al Quinn Novel Book 1)
by Russ Hall


(69 Reviews)
Genre: Mystery, Thriller & Suspense | Suspense | Mystery
FREE for a limited time
Trouble big as all hell.
Retired sheriff's detective Al Quinn hasn't spoken to his brother, Maury, in twenty years. When Maury lands in the hospital under suspicious circumstances, though, Al reluctantly abandons his quiet country seclusion to look into the matter. A second attempt to take Maury out drives the brothers back to Al's lakeside home, where Al knows the territory, but they're not alone for long. ICE agents demand that Maury rat on his silent partner, city cop Fergie Jergens comes investigating the murders of Maury's lady friends, and someone takes a match to Al's house.
Al soon learns his problems are only getting started — his brother's in trouble on both sides of the U.S.-Mexico border. Caught in a ruthless power struggle between the ICE and Los Zetas, a vicious Mexican mafia bent on ascendancy, Al learns the hard way who he can trust — and who's willing to do whatever it takes to succeed.
With everything he loves on the line, Al will find out just how far he'll go to protect his own.
Click here to get this book for FREE
° ° ° ° ° ° ° ° ° ° ° ° ° °
18 Days of Christmas (A Caden Christmas Book 1)
by Audrey Bodine


(28 Reviews)
Genre: Religion & Spirituality | Religious & Inspirational Fiction | Romance
FREE for a limited time
She was ready for another predictable holiday season. He was praying for an actual merry Christmas for his daughter.
Beckett Caden has one wish this year: that his daughter's Christmas would be as magical as children's holidays were supposed to be.
After two bittersweet December twenty-fifths without his wife, Beckett knows he needs to do something different this year, for his daughter. Listening to his parents' advice, he takes a break from his executive position at their family-run bookstore chain and books a trip for Holly and himself. Beckett hopes that a few weeks in a charming lodge, with a laundry list of fun activities, will help to restore the smile that used to light up his little girl's eyes.
Through snowman building, city sightseeing, and a constant theme of Christ through the season, Beck begins to think this was the right decision. The only downside? The sarcastic and irritating elf of a woman with hair as boisterous as Santa Claus, himself.
When an unexpected snowstorm traps them all inside, it's either work alongside The Elf or watch chaos overtake the understaffed inn. Surviving with the aid of caffeine and prayer, Beckett has a feeling this Christmas will turn out to be one of the most memorable he's had.
Elise McKenzie needs a social life. At least, that's been the constant mantra from her family for the past, oh, all her adult years.
With her freelancing graphic design work and the volunteering she does at her grandparents' lodge, Elise seems to be the only one happy with her life. Even if the male she most frequently has deep conversations with is her cat.
For Elise, this holiday season brings a flurry of unsanctioned blind dates, questions about the future, and a snowfall that will keep her toe-to-toe with the single father whose dimples remind her of the infuriating enjoyment he receives from pushing her buttons.
Elise's Christmas wish? Survive this season and try not to bonk the obnoxious guest over the head with a gingerbread house.
Click here to get this book for FREE
° ° ° ° ° ° ° ° ° ° ° ° ° °