Do you think Christie Brinkley actually used Prell shampoo? I bet she didn't. I remember Prell shampoo having the same packaging as toothpaste. That was messed up.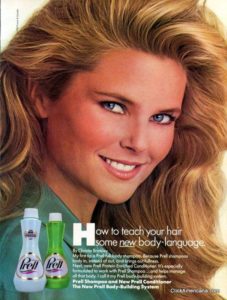 Chasing Rain (Chase Wen Thriller)
by Brandt Legg


(307 Reviews)
Genre: Thrillers | Literature & Fiction | Men's Adventure
FREE for a limited time
He created it.
They will kill for it.
She must stop it.
The chase is on!
A tech billionaire on the run. His AI breakthrough has the CIA, Chinese MSS, and the most powerful corporations after him. Teamed with a beautiful ex-spy, they must find a way to destroy his invention before it destroys us all!
Click here to get this book for FREE
° ° ° ° ° ° ° ° ° ° ° ° ° °
Blatantly Blythe (The Ghost Falls Series Book 3)
by Sarah Hegger


(28 Reviews)
Genre: Romance
FREE for a limited time
Return to Ghost Falls, where love comes to stay, for the long awaited third book in the series.
Eric Evans is about to discover that you don't know you love someone until you lose them, when town "bad girl" Blythe Barrows ends their long-term, on-again, off-again, friends with benefits relationship.
Having finally gained independence from the disreputable Barrows family, Blythe wants more for herself. However commitment-phobic Eric never made any promises.
Unable to let her go, Eric must fight for what he's lost. But can Blythe trust him with her heart enough to give their love a second chance?
Click here to get this book for FREE
° ° ° ° ° ° ° ° ° ° ° ° ° °
Deal with the Devil (The Law Wranglers Book 1)
by Ron Schwab


(186 Reviews)
Genre: Literature & Fiction | Classics | Historical Fiction
FREE for a limited time
"There are other lawyers in New Mexico," Josh said.
"But not many that would know about hunting for a girl among the Comanche," Levi replied.
And so after several long years of trying to put the past behind him, Josh Rivers finds himself intertwined in a case that has him leaving the comforts of his life in Santa Fe for the desolation of the Staked Plains. In his quest to find a young woman abducted by the Comanche, Josh must confront the horrors of his past, as well as pull off the diplomatic high-wire act of negotiating with the Comanche and their great war chief, Quanah Parker.
Set amidst the Texas-Indian wars, high-octane action, adventure, and intrigue abound in Deal with the Devil, the first book of The Law Wranglers series.
Click here to get this book for FREE
° ° ° ° ° ° ° ° ° ° ° ° ° °
Murdermobile (Portland Bookmobile Mysteries Book 1)
by B.B. Cantwell


(62 Reviews)
Genre: Mystery | Mystery, Thriller & Suspense
FREE for a limited time
It's pre-"Portlandia" Portland, when bookmobiles still roamed the Earth. When the retired head librarian is found dead in the City Library's bookmobile, it's no longer business as usual for fiery-haired librarian-on-wheels Hester Freelove McGarrigle. Does the murder have something to do with the wacko book-banning group with which the old woman was entangled? It's up to Hester and her dishy, trail-running, pizza-obsessed neighbor, Detective Nate Darrow, to chase clues all over Oregon's quirky Rose City. Their mutual connection with Nathaniel Hawthorne, along with Hester's upchucking Maine Coon cat, build the romantic fizz in this cozy mystery spiked with humor and an authentic Northwest sense of place. Fasten your seatbelt — and hold tight to your armload of books — for the flash-bang ending high atop Crown Point in the spectacular Columbia River Gorge. Want great literature? Read "War and Peace." Want a rollicking good read for a weekend or vacation? Try this debut novel from one of Portland's last bookmobile librarians and her travel-writer husband, writing together under the pen name B.B. Cantwell.
Click here to get this book for FREE
° ° ° ° ° ° ° ° ° ° ° ° ° °
Guardian Ship
by Mark Wayne McGinnis


(241 Reviews)
Genre: Science Fiction | Science Fiction & Fantasy | Metaphysical
FREE for a limited time
Dominic Moretti was dealing with a lot of issues. Life hadn't been easy since returning home from Afghanistan. His marriage was on the rocks, his sports betting was out of control, and he was hanging out with the wrong cronies in Manhattan's Little Italy — just another war hero who couldn't piece his life back together in the real world. Also, there was that strange, annoying feeling that he was being watched…
Humankind was indeed being evaluated, by the highly advanced Khantam Lom, an alien species in control of much of the galaxy. Did this selfish, war-mongering, human race warrant protection from the soon-to be-invading Wikk Empire? An insectile species with insatiable appetites, the Wikk were hell-bent on subjugating Earth as one of their many farming settlements.
So the adventure begins. Dominic inadvertently saves the life of a Khantam Lom Observer, and everything changes. Humankind has but one — seeming impossible — shot at avoiding a catastrophic fate. Dominic won't be able to do it alone, but will the ragtag team he's assembled be enough? Will any of them survive long enough to make a difference?
Click here to get this book for FREE
° ° ° ° ° ° ° ° ° ° ° ° ° °