FINALLY!!!! They have arrived! Okay, they were always here, but now they are here in their final Pokemon form. Two of the three fat little caterpillars I have been keeping in my caterpillar prison for the past few weeks have now finally popped out of their chrysalis, and are now beautiful Monarch butterflies. They look fantastic! Unfortunately for them, they look so great I am refusing to let them go. Instead I had hubby put together a butterfly prison so I can keep them. Yes, I know I am supposed to send them out into the world, but I am going to try and hold onto them for a little longer. The two that have emerged are females, and my hopes are that the third one is a male. If he emerges in time I would love to put on some romantic music and encourage a bit of… (wink wink) yaaaa know. HA!! I took about ten thousand pictures and the only good one was the one below. I guess I was a bit excited. She is only about 30 minutes old at this point. I will take more today so you can see my beautiful butterflies. HAPPY MONDAY!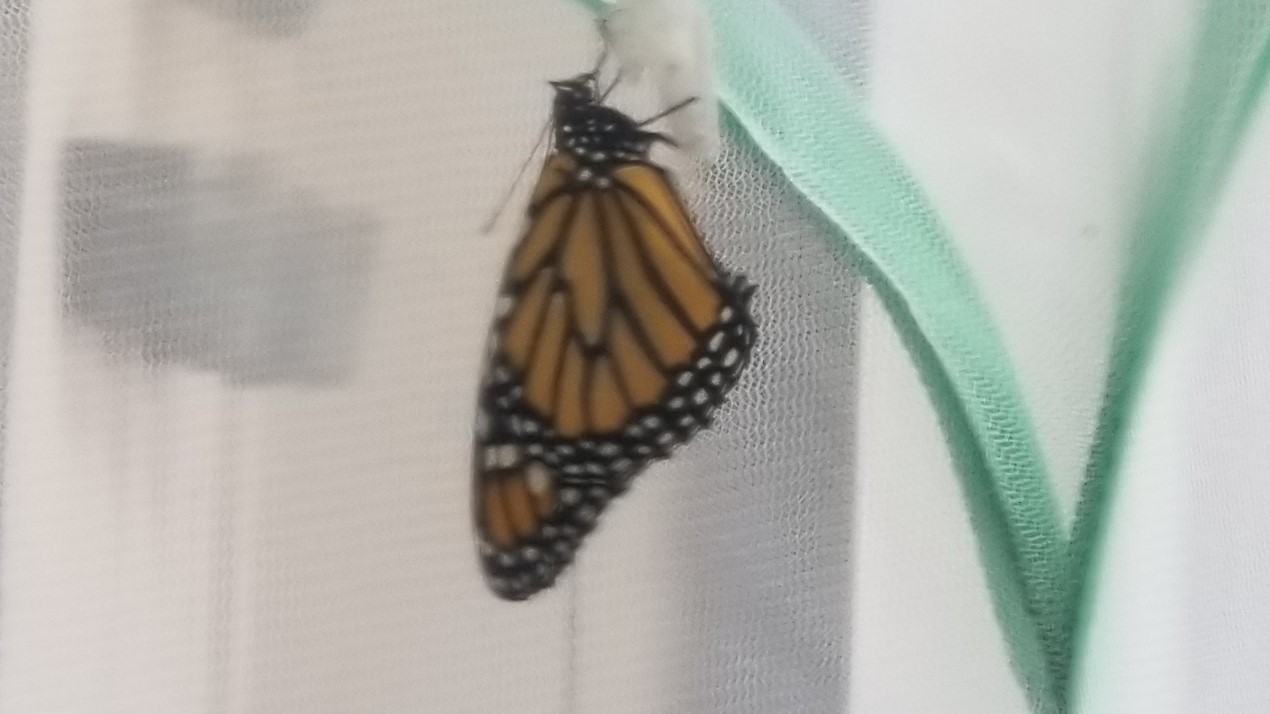 Sanctuary's Aggression: A Post-Apocalyptic Survival Series
by Maira Dawn


(131 Reviews)
Genre: Teen & Young Adult | Horror
FREE for a limited time
Within weeks of the first sneeze, everything changed.
Where the deadly virus came from no one knew, but the pandemic swept the nation, then the world. Before long, everything is chaos.
When the virus strikes close to home, Skye Jackson is forced to flee. Now stranded on a remote mountain road, she is miles from where she needs to be.
Jesse's only desire is to escape his abusive, alcoholic father. And if it takes the end of the world to gain freedom, so be it.
Together, they must learn who to trust and how to survive in this dark new world.
Buy now if you like pulse-pounding pandemic action and adventure in a post-apocalyptic dystopian world with surprising alternate history twists and turns.
This science fiction is suitable for adults and young adults.
Click here to get this book for FREE
° ° ° ° ° ° ° ° ° ° ° ° ° °
Unguarded (The Ties Of Blood Book 1)
by MaryAnna Rose


(26 Reviews)
Genre: World Literature | Historical Fiction | Religion & Spirituality
FREE for a limited time
A Jewish girl on the run. A German soldier sent to catch her. Neither could imagine the deadly choices they'd face.
Lena Weismann isn't surprised when she's arrested and shoved on a train. But everything stops making sense when a soldier helps her escape. Why doesn't he ignore her or hate her like everyone else?
Karl Von Liedersdorf always followed orders. Always, that is, until a chance assignment throws a girl in his path. Now nothing's black and white. Keeping her safe becomes his mission, but everything is against him. Especially her.
Unguarded is the first book in The Ties of Blood historical romance series. If you like intense emotional journeys filled with heart breaking choices and pages that'll grip you till the earliest morning hours, you'll love MaryAnna Rose's series set in the tragic chaos of the second world war.
Buy Unguarded today and start the journey.
Click here to get this book for FREE
° ° ° ° ° ° ° ° ° ° ° ° ° °
Lost Legacy: The Crystal Skull Chronicles (The Skull Chronicles Book 1)
by D K Henderson


(44 Reviews)
Genre: Contemporary Fiction | Religious & Inspirational Fiction | Fantasy | Metaphysical
FREE for a limited time
A beautiful young woman is entombed alive as a sacrifice to angry gods…
A young priest embarks upon a desperate flight across a hostile landscape deep in the heart of Atlantis…
In the possession of each, a sacred crystal skull.
Over 250,000 years ago, 13 crystal skulls were brought to Earth from the distant star systems of our galaxy. Their purpose? To watch over the evolution of human consciousness. Today they lie hidden and forgotten, scattered across our world. Waiting for the time when they will be brought together again to lead humankind into a new golden age.
2012; England. With her life falling to pieces around her, Gemma Mason's sleep is increasingly disturbed by vivid dreams of crystal skulls, extraterrestrial beings and the ancient temples of Atlantis. Dreams that tell stories of adventure, heartbreak and danger. Of courage, loss, sacrifice and love where the future of the human race itself is at stake. Dreams that contain vital messages for us at this point in our history. As they unfold, Gemma realises she has been chosen to share a secret that will have repercussions for the whole of humankind.
Reluctantly she accepts her destiny and finds herself plunged into the forgotten history of an unknown world where myth and legend suddenly become irrefutably real. It is a journey that calls into question everything Gemma has ever believed to be true and demands that she faces her own deepest fears. For she is being asked to share with the world the shocking secret of our forgotten past, a secret that will change forever the way we look at ourselves and our place in the universe. But are we ready to hear such a truth?
In Lost Legacy, Gemma relates the history of two of these sacred crystal skulls as her own story unfolds. Travelling from the dense humidity of the rainforest to the desert lands of North America, from frozen Arctic wastelands to the cities and mountain ranges of Atlantis, past and present are seamlessly woven together in a rollercoaster ride of emotion and adventure.
Lost Legacy is the first book in The Skull Chronicles series, a global adventure of epic proportions. Also available, Book II: The Red Skull of Aldebaran, and Book III, Daughter of the Gods.
Click here to get this book for FREE
° ° ° ° ° ° ° ° ° ° ° ° ° °
Missing (Mason Black Book 1)
by Adam Nicholls


(1,996 Reviews)
Genre: Crime Fiction | Thrillers
FREE for a limited time
The clock is ticking. They're still missing.
After handing in his detective badge, Mason Black now lives a stable life as a private investigator. But when the bodies of two children are discovered with messages written in blood, the pattern of a familiar killer emerges.
Now, the Carter twins are missing, and only Mason can help. With his unique knowledge of the killer, he has an advantage over the San Francisco Police Department. While his marriage falls apart, he must choose between repairing his life or opening doors that were meant to stay closed. There's just one problem; neither solution will restore his faith in humanity.
The Lullaby Killer is on the hunt, and Mason Black is always a step behind. As the trail reveals shocking secrets and surprising twists, you'll be holding your breath for the entirety of this gut-wrenching detective thriller.
Missing was previously published as Hush and has since undergone developmental edits to bring the reader a fresh new experience. This novel is the first installment of an ongoing series.
Click here to get this book for FREE
° ° ° ° ° ° ° ° ° ° ° ° ° °
Gone Country (Cousins Gone Book 1)
by Katrina Marie


(68 Reviews)
Genre: Romance
FREE for a limited time
What happens when a city girl goes country?
She is a driven city girl with her eyes on the prize.
He is a smoking hot country mechanic whose prize is her.
Stella Monroe has her eye on one thing… a promotion. So when her boss offers her an opportunity to show her value to the company, she decides to take it. There is just one problem. Moving to a small town away from her city life isn't Stella's idea of a good time. But she's got this. Right?
From the minute she arrives in the country, Stella is beginning to lose her confidence. Her car ends up in a ditch, a snake decides to visit her in the shower, and the quiet is driving her crazy. Her only saving grace is the hot mechanic that rescued her from the side of the road. His mix of kindness and cocky playfulness is definitely appealing, but can she manage her career and a fling?
Click here to get this book for FREE
° ° ° ° ° ° ° ° ° ° ° ° ° °