Here is a sweet little picture I came across today of my sweet Junebug that is sure to put a little smile on your face Enjoy!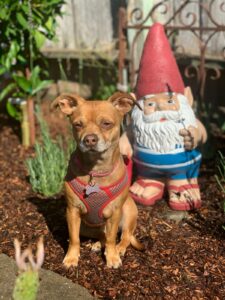 Murder at the St. Regis: A Chef Dani Rosetti Cozy Mystery (Chef Dani Rosetti Cozy Mysteries Book 1)
by Dianne Harman


(600 Reviews)
Genre: Mystery | Parenting & Relationships | Friendship
FREE for a limited time
A celebrity television chef with a fledgling VIP catering company.
.A 10-year-old niece she didn't know she had.
Mix those with poison, car bombs, and murderers
And her carefully laid out plans for a future life become completely upended!
Tragically, Dani Rosetti's parents died in a plane crash, and she leaves law school behind, heads to Paris, and becomes a chef. And not just any old chef – but a chef who goes on to become the darling of the celebrity chef world.
When a rabid fan tries to kill her, she ends her television career as a celebrity chef to start a catering company for the VIPs of the world.
What she never expected, after not speaking with her brother for years, is that he had a child, and when he unexpectedly dies, that she would become that child's guardian. Suddenly she's Auntie Dani to a precocious ten-year-old. But someone wants to kill her. It takes all the resources her bodyguard, Arthur, who doubles as her sous-chef, has to keep Dani and her niece safe. Whipping up cream for chocolate mousses was a lot easier for both Dani and Arthur!
Click here to get this book for FREE
° ° ° ° ° ° ° ° ° ° ° ° ° °
The Gamekeeper's Wife: A gripping and emotional novel of love and loss in 1920s England
by Clare Flynn


(506 Reviews)
Genre: Historical Fiction | War
FREE for a limited time
A gripping tale of love, duty, sacrifice and determination in the aftermath of the First World War.
Martha Walters is the widow of an abusive man. Martha has nothing and is about to lose her home.
Christopher Shipley is the reluctant heir to a substantial family fortune. He has more money than he needs or wants, and responsibilities he cannot shirk.
They were never meant to fall in love, but sometimes the wrong person is the right one. Then a terrible secret is revealed, which could force them apart.
Click here to get this book for FREE
° ° ° ° ° ° ° ° ° ° ° ° ° °
The Terrible Old Man
by H. P. Lovecraft


(125 Reviews)
Genre: Classics
FREE for a limited time
The first story set in the fishing village of Kingsport, which is featured in the later works of the one of the greatest horror writers of all time.
It is rumored that the mysterious old man who lives alone in the small New England town was once a sea captain. It is also rumored that he is hoarding a treasure. When three robbers decide to steal it, they will encounter a bloodthirsty evil unlike any they ever imagined…
"The Terrible Old Man is the story of three career criminals looking to rob the eponymous character, an eccentric retired mariner so ancient that no one alive remembers his youth… This is also the first story set in the fictional New England geography that Lovecraft will detail over the course of future writing… So, what we see in these stories is Lovecraft beginning to construct the alternate world which will be the home to his most famous works, at least as much a unifying element of the author's oeuvre as those details subsequent writers and critics have defined as the 'Cthulhu Mythos.' As such, The Terrible Old Man is not only an effective piece of eerie storytelling, it is also an important stepping stone in the development of a bigger Lovecraftian world." — The Blood-Shed
Click here to get this book for FREE
° ° ° ° ° ° ° ° ° ° ° ° ° °
Not Quite Broken: A Callaghan Family & Friends Romance
by Abbie Zanders


(177 Reviews)
Genre: Contemporary Fiction | Literary Fiction
FREE for a limited time
Just because he's back home doesn't mean he can forget.
Every day is a struggle for Brian McCain. Betrayed by his best friend and abandoned by his country, he feels broken and unable to connect with anyone. But Tori Donovan is different. She shines a light into his darkness and keeps the demons at bay, at least for a little while.
Tori has demons of her own. All her life, she's been let down by those who should have been protecting her. She's learned the only one she can depend on is herself. Brian might be the exception. He's a great guy, everything she's looking for, but he's too caught up in his own problems to see the truth.
When their relationship goes beyond friendship, Brian thinks the best option is to walk away. Tori's sudden and unexpected disappearance is the wake-up call he needs, and Brian learns he's not as alone or as broken as he thought.
PLEASE NOTE: Not Quite Broken was previously published as part of the USA Today Bestselling anthology, Love Under Siege. This single title edition is NOT significantly different.
Click here to get this book for FREE
° ° ° ° ° ° ° ° ° ° ° ° ° °
The Binge Code: 7 Unconventional Keys to End Binge Eating and Lose Excess Weight (+Bonus Audios)
by Alison Kerr, Richard Kerr

(737 Reviews)
Genre: Health, Fitness & Dieting | Self-Help
FREE for a limited time
Join Thousands who've Discovered a New Way to End Binge Urges & Food Cravings
(Update: Since its first publication in 2017, The Binge Code has sparked a quiet revolution in binge eating recovery, helping thousands of people worldwide end their struggle with food and is endorsed by University Professors, Eating Disorders Specialists and Doctors.)
Do you feel trapped in a continual cycle of overeating, food cravings, and food obsession?
Do you struggle to control your weight with diet after diet?
Does one donut frequently turn into a full-blown binge?
If so, you may be stuck in "The Binge Trap".
Your body, mind and emotions have become trapped in a continual cycle of bingeing on food. Until you break free, the desire to binge will always remain. It never goes away.
The Binge Code is a bold new book based on hard science and over 10 years of helping people end their binge eating issues and lose excess weight.
In this book, UK Nutritional Therapist and best-selling author of THE BULIMIA HELP METHOD, Alison Kerr shows you an easy-to-follow, step-by-step program to unlock your mind, body and emotions from "The Binge Trap".
Using her breakthrough approach you can overcome compulsive eating, food cravings, weight fluctuations and learn to live life to the fullest. Freedom from food issues – and a happier, more fulfilling life – is within reach. You just need to follow The Code
"You're not crazy, weak, or lacking willpower. And it's not your fault! The Binge Code digs into the science to show you what's keeping you out of control around food and provides an effective, easy-to-follow action plan to stop overeating."Cameron Heathers, bestselling author and Life30 co-founder
"The Binge Code is a scientifically sound and easy-to-understand road map to optimal health. I highly recommend this groundbreaking program" Dr. Robert Leslie, Founder of Wellbeing
WHO IS THIS BOOK FOR?
This book is for anyone who ever feels powerless or out of control around food.
Especially if you:
• Regularly overeat
• Eat when feeling emotional or stressed
• Constantly hop on and off diets
• Ever feel guilty or ashamed at what you've eaten
• Have been diagnosed with BED (binge eating disorder) or bulimia
• Are holding on to excess weight
• Find yourself binge eating at night
IMPORTANT: THIS IS MUCH MORE THAN JUST A BOOK
This self help book also comes with five audios for quick relief of binge cravings. You can apply these tools in situations that you may find triggering. Help is now with you wherever you go!
Join the community: Also included is an active support community to help support your journey. This blend of information, technology, and community support helps you get results.
Click here to get this book for FREE
° ° ° ° ° ° ° ° ° ° ° ° ° °