Good morning book readers! You know the song that goes, "sunrise, sunset, sunrise, sunset"? Honestly, that's all I know of the song so maybe you can tell me more, but this picture makes me think of that song. So… sunrise or sunset? – The Apprentice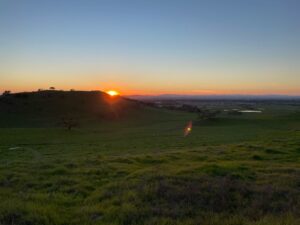 Soldier Under the Mistletoe: Sawyer Creek 
by Lacy Williams


(324 Reviews)
Genre: Romance | Holidays
FREE for a limited time
He's trained to kill. She's got a healer's heart.
There's a thousand reasons they would never work…
but she has one night to change his mind.
One night. Make it count. Mallory Trudeau can manage a five hundred acre ranch. She just can't seem to break out of the Friend Zone with Sam "Maverick" Dunlop. She knows he thinks of her as Cash's little sister, but that's going to change tonight.
It's just one night. Evade and retreat. The fancy-schmancy Christmas Ball is one in a long string of reminders that Maverick doesn't belong in Mallory's world. He's got thirty-six hours to report back to his military base. He can make it that long without giving in to the forbidden attraction he feels for Mallory.
Click here to get this book for FREE
° ° ° ° ° ° ° ° ° ° ° ° ° °
An Unknowable Quality (The Perimeter Book 1)
by Vladamir Jones


(11 Reviews)
Genre: Action & Adventure | Suspense | Fantasy
FREE for a limited time
I had liked my life, mostly.
Maybe it wasn't the one I would have chosen if things had worked out differently, but it was my life. I had made it from scratch.
I'd fought, trained and worked hard. I'd stayed focused and became the best Marine anyone ever met. Not the best female Marine, the best Marine full stop. I was exactly where I wanted to be. The go-to person who maybe wasn't the best liked Marine, but definitely the one the guys wanted at their back.
Until the night I wasn't.
It didn't matter that no one had ever seen or heard of the unearthly hell creature that killed my entire squad while I was out walking the line. It didn't matter that I wasn't suppose to be there in the first place, and it didn't matter that no one believed me. What mattered was, when it was all over, my guys were still dead and I wasn't a Marine any more.
But one night something out of a nightmare happened and I learned two things. Monsters are real, and that I still had one more good deed left in my soul.
Click here to get this book for FREE
° ° ° ° ° ° ° ° ° ° ° ° ° °
Dr. Hot Stuff: A small town runaway royal romantic comedy 
by Tawna Fenske


(499 Reviews)
Genre: Literary Fiction | Humor & Entertainment | Humor & Satire
FREE for a limited time
Racing heart? Check. Damp palms? Check. All signs indicate I've got it bad for Lady Isabella Blankenship.
It could be contagious, since Iz shows all the same symptoms. But what's got her pulling back anytime things blaze between us? I know a modern-day duchess might have baggage from finding out she's the illegitimate child of a dead American philanderer with more kids than morals. But Izzy's on edge, and there's more to it than run-of-the-mill culture shock.
Turns out I'm not the only guy drawn to her. She's shadowed 24/7 by protective siblings, an amorous pig named Kevin, and a deadly-looking stranger skulking around Ponderosa Resort. It's more drama than I've seen since my days as an Army doc, so I'm happy to lend Iz a shoulder or any body part she needs.
But what are my odds of diagnosing what ails Izzy before my royal crush makes a run for it?
Click here to get this book for FREE
° ° ° ° ° ° ° ° ° ° ° ° ° °
Guardian Mate: A Starhawke Sci-Fi Romance
by Audrey Sharpe


(21 Reviews)
Genre: Metaphysical
FREE for a limited time
Their interstellar romance launched a starship… After fleeing the malevolent alien race that wiped out her homeworld, all Libra Hawke wants is a quiet life of obscurity. No danger. No drama. Definitely no surprises. But then the universe crashes Brendan Scott into her — literally — and knocks her world off its axis.
He's human. She's not. She has no business being anywhere near him, not if she wants to conceal her nebula of secrets. But tell that to her traitorous heart.
His curiosity about her past pokes holes in her cover story big enough to fly a starship through, while logic takes a spacewalk every time they touch. Their intense connection indicates he might be her destined mate… if he can accept her alien nature.
And her power.
Click here to get this book for FREE
° ° ° ° ° ° ° ° ° ° ° ° ° °
The Lost World
by Arthur Conan Doyle

(3,716 Reviews)
Genre: Fantasy | Science Fiction | Classics
FREE for a limited time
A dangerous expedition into the Amazon Basin reveals a land of living dinosaurs in this classic science fiction novel by the creator of Sherlock Holmes.
When Professor Challenger, a famous paleontologist, reports that he has discovered dinosaurs living on a remote plateau in South America, he is met with ridicule from the scientific community, particularly his rival, Professor Summerlee. With the help of a young reporter and an experienced adventurer, the two academics make a return trip to the Amazon Basin in order to verify Challenger's claims. But what they encounter there is more incredible — and dangerous — than anyone thought possible.
Successfully reaching the remote plateau Challenger described, the expedition team is soon trapped in a land of pterodactyl attacks and dangerous tribes of ape men. Their findings will turn the scientific world on its head… if only they can get out alive.
Click here to get this book for FREE
° ° ° ° ° ° ° ° ° ° ° ° ° °