I know I Know! I know it's too early to decorate for Christmas, but gnomes aren't necessarily just for Christmas, right? My mother in law bought this cute little trio at Costco, and I just couldn't leave them in their box. They need to be with people! Maybe they can keep an eye out for that Elf on The Shelf and keep him in line. Now that I am looking at them again, they kinda do look like my personal body guards against elves that snitch on you. They look quite serious. PERFECT!!!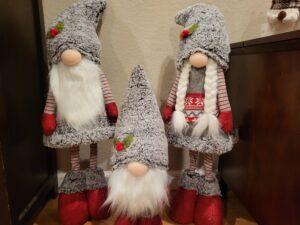 Grandfather Anonymous (Old Code Book 1)
by Anthony W. Eichenlaub


(139 Reviews)
Genre: Science Fiction | Thrillers
FREE for a limited time
Elderly, unarmed, and extremely dangerous.
Ajay Andersen was the best hacker the NSA had ever hired. He sank corporations, toppled governments, and broke cryptography. All of it. Retirement hasn't slowed him down one bit, thank you very much.
His granddaughters are threatened, and he's going to need to step it up a notch. Biotech corporations and criminal enterprises hold the keys to survival, but ubiquitous surveillance threatens to reveal Ajay's every move. Ajay would do anything to protect his family, but the more he digs, the more he dredges up the shadows of his own dangerous past.
He only needs to know one thing:
What makes his granddaughters so darn dangerous?
Click here to get this book for FREE
° ° ° ° ° ° ° ° ° ° ° ° ° °
Forgotten Monsters
by Michael Procopio


(38 Reviews)
Genre: Fantasy
FREE for a limited time
One frigid, winter evening Marissa Summers saved someone's life. She'd used her secret telekinetic abilities to stop a robbery in a park and – lucky her – someone recorded it. Footage from the incident went viral. Though she did her best to conceal her identity by wrapping a scarf around her face, she was easily recognized by the one person she's evaded for years: her abusive mother, Claire.
Claire makes Marissa an offer too good to refuse – she can bury the growing story and prevent Marissa's identity from being revealed. While Claire says she has her daughter's best interests at heart, Marissa soon discovers that her mother's lies and secrets are far more insidious than she could have ever imagined.
The worst part? No matter how much power Marissa has, it becomes obvious that Claire can still get Marissa under her control with just a few manipulative words.
With her freedom on the line, Marissa must confront her mother, inciting a battle she never wanted to be a part of. Will she find the strength to overcome her past once and for all or will she remain entrapped in the snare of the very person she spent her life fleeing from?
Click here to get this book for FREE
° ° ° ° ° ° ° ° ° ° ° ° ° °
Murder By Suicide: A Ray Hammett & Jessica Summers Short Mystery #1
by Ian Thompson
Genre: Crime Fiction | Mystery
FREE for a limited time
Crime reporters Ray Hammett and Jessica Summers are asked to do a favour for their police contacts DI Matt Dean and DS Donat, who would like some good press for a job well done. The officers were called to the scene of an apparent suicide, but have quickly uncovered and solved a murder…
Or have they?
Ray and Jessica are too shrewd to simply write up the news item and take a few pictures. Something doesn't feel right. So they begin to nose around… and find that the pieces of this puzzle don't fit…
If Rafe Masterson was forced to drink poison by his business partner to fake a suicide… why is there a bullet hole in his desk? How could the partner's plan to escape the scene by car have gone so wrong? Does the murder have more to do with the infamous gangster who was threatening Masterson? And what does the innocent-looking secretary have to hide?
Much to the annoyance of their police friends, Ray and Jessica start to put together what really happened. The case hinges not only on who wanted Rafe Masterson dead, but who would want him to die in the manner he did…
If they get it right, the pair might just prevent a second, truly awful crime.
The clues are all there, alongside the lies, red herrings and misdirections. Can you solve the mystery before Ray and Jessica?
Click here to get this book for FREE
° ° ° ° ° ° ° ° ° ° ° ° ° °
Crazy Thing Called Love (Business of Love Book 4)
by Ali Parker


(322 Reviews)
Genre: Contemporary Fiction | Women's Fiction
FREE for a limited time
Want the most romantic honeymoon experience you can get? I'm your gal.
Unfortunately, it isn't by experience that I know these things.
Love doesn't come easily to an overworked type-A planner who manages romance at the most luxurious resort in the Virgin Islands. I have far too many boxes to check to be checking out anything but forms, schedules, and rose petals. God, the rose petals in this place. For the longest time, my career has been my ultimate dream and completely filled me up. Love was for others who needed a partner in life to get by but not me. I got this on my own. Until a class-A hottie shows up and knocks me off my feet — literally. He's visiting the island trying to figure out what he's running from or to. Take a ticket, mister. We all are. As great as he is, I can't have kids and I'm honestly unsure of how he might feel about that. First comes love, then marriage, and then babies in the baby carriage. Perhaps I'll just stick to what I know best — creating romance for others. As much as I thought I knew about forevers, I was completely wrong. This crazy little thing called love has called my bluff.
Click here to get this book for FREE
° ° ° ° ° ° ° ° ° ° ° ° ° °
The Sheriff's Final Gunfight: A Historical Western Adventure Book
by Austin Grayson

(163 Reviews)
Genre: Romance | Literature & Fiction | History
FREE for a limited time
Sam Lane has been the sheriff of Durango Hills for 32 years. With just a month left before retirement, he hopes that his last days of tenure will be quiet and peaceful. But his plan goes awry when one of the most powerful ranchers in the area, Deke is murdered, and all evidence points to his hated rival, Jerico. When Sam realizes that there's more to the story, will he step up his game and get to the bottom of the murder, defying all odds?
While investigating Deke's murder, more trouble comes Sam's way. Two gunmen are passing through town and they do not plan on leaving before taking down the sheriff due to past grievances. Sam will be called to outwit and outgun them, while at the same time he needs to find another killer on the loose. Does the old Sheriff have it in him to solve the most demanding case of his life?
Gunfights and cat and mouse games create a thrilling tale full of twists and turns that will keep the reader flying from page to page. An action-packed story of rivalry and secret pasts, featuring complex characters and important pieces to the greatest puzzle of a sheriff's life.
An action-packed story, featuring complex and fascinating characters and twists that will leave the reader breathless. A must-read for fans of Western action and romance.
"The Sheriff's Final Gunfight" is a historical adventure novel of approximately 80,000 words. No cliffhangers, only pure unadulterated action.
Click here to get this book for FREE
° ° ° ° ° ° ° ° ° ° ° ° ° °
Dinosaur Mazes for Kids Ages 4-8: Maze and Dot to Dot Book
by Buzzing Bee Press, Simi Raghavan


(74 Reviews)
Genre: Foreign Languages | Children's eBooks
FREE for a limited time
Created by certified teachers, this dinosaur-themed activity book will help your little one(s) develop important educational skills while having tons of fun!
In this engaging maze and dot-to-dot activity book, your kids will be excited to head out on a Jurassic adventure with 7 cute dinosaur characters. They will challenge their problem-solving skills as they lead each dinosaur through mazes (set amidst scenes of Jurassic wilderness) in search of hidden clue words. They will need to avoid dangers such as erupting volcanoes as well as the ever-present ravenous raptors. The dot-to-dots will allow them to develop their fine motor skills as well as allow for some fun coloring once completed. Parents and caregivers are also encouraged to join in alongside their little one(s) in the bonus raptor-themed adult versus child maze challenges.
Key Features:
• 43 beautiful originally illustrated activity pages that will engage and challenge your child
• Four levels, increasing in difficulty (appropriate for ages 4-8)
• A dot-to-dot to complete and color in at the end of each level
• Encourages family bonding with 7 adult versus child maze challenges to do alongside your children
• Clue words to find after each maze (Children will practice printing the words out together at the end of each level to form fun sentences)
• Durable, travel-friendly, wipe-clean cover
• Large 8.5″ x 11″ format
• Created by certified teachers
If you are ready to engage your child in this fun, skill building activity book, simply click BUY NOW or ADD TO CART above.
Click here to get this book for FREE
° ° ° ° ° ° ° ° ° ° ° ° ° °