I spy with my little eye a rainbow. – The Apprentice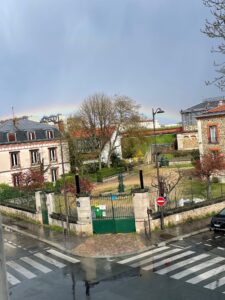 Love at Eagle Station
by Susan Warner


(148 Reviews)
Genre: Romance | Contemporary Fiction
FREE for a limited time
A town full of acceptance. A heart full of prejudice. Can they both find peace and… love? Inheritance Bay is a town that welcomed Layla Cartia and her brother and unwed mother. The people here treated the unconventional family as one of their own, so Layla would do anything for this town, especially now that it's facing economic hardships.
Hardships that threaten their homes.
Nolan Taggert, also known to his financial firm as the Reaper, is in town looking to set up a call center. But Nolan doesn't want a town official to show him around; instead, he picks Layla, a local, to show him the true spirit of the place. Nolan knows all about small towns. They're filled with judgmental and narrow-minded people. But if Layla can get Nolan to see the beauty and refuge she has found in Inheritance Bay, maybe he could heal the wounds made so long ago.
Click here to get this book for FREE
° ° ° ° ° ° ° ° ° ° ° ° ° °
Outback Hope: The Farmer 
by Annie Seaton


(276 Reviews)
Genre: Literature & Fiction
FREE for a limited time
Who knew overhearing a private conversation would change her life forever?
When Kimberley Riordan realises how much trouble her long-time friend, Quinn Calthorpe is in, she knows she must find a way to help him.
But if Quinn discovers her plan, Kimberley knows he will leave Augathella and lose his cattle station. She enlists the help of her sister, determined to make Quinn fall in love with her, even though she isn't in love with him.
But Cupid delivers unexpected results, and Kimberley's plans are destined for a fall.
What will she do when she discovers that Quinn has always been in love with her?
Click here to get this book for FREE
° ° ° ° ° ° ° ° ° ° ° ° ° °
Three Fortunes for the Billionaire 
by Donna K. Weaver


(138 Reviews)
Genre: Romance | Foreign Languages
FREE for a limited time
A stuttering billionaire who's paralized around women must get past an abused woman's scars if he's to find his happily ever after.
Musician Ezreal Wallach might be a billionaire, but he can't talk in front of crowds — or unfamiliar women. He's asked to help with a music program for underprivileged children, but working with a woman is way out of his comfort zone. He's about to say no until he meets her and her children. They bring the music in his mind alive in new ways. He's never been on a date. For the first time in his life, he'd like to change that. But he has to figure out how to talk to her first.
Sara Fortune is suspicious of men and will do anything to protect her children from their violent father. She moves them across the country for safety. In her new location, she has the opportunity to help bring music to poor children. She finds herself drawn to the quiet, eccentric composer who's been asked to help, but she worries that she and her children are becoming too attached to Ezreal. In her experience, all men are violent and controlling. Can she stop herself from falling in love before he shows his true colors?
Click here to get this book for FREE
° ° ° ° ° ° ° ° ° ° ° ° ° °
The Puzzling Cruise
by Lizzie Josephson


(90 Reviews)
Genre: Mystery
FREE for a limited time
Veronica White named the third Fun Cruise Ship Fantastic Fun, and decided the Inaugural Voyage would feature a Puzzle Tournament.
Janine Taylor couldn't resist. She loved puzzles, she loved cruising and she was beginning to become pretty interesting in getting to know Chief Security Officer David Marsden better.
What she'd hoped to be a romantic Caribbean Cruise quick became full of the wrong kind of puzzles, the kind she and David needed to solve before disaster struck Fantastic Fun!
Click here to get this book for FREE
° ° ° ° ° ° ° ° ° ° ° ° ° °
Wicked Good Cupcakes
by Louise Davidson


(98 Reviews)
Genre: Cookbooks, Food & Wine
FREE for a limited time
Bake the perfect cupcakes every time! Unbelievably easy and insanely delicious!
You don't need to be an expert to bake cupcakes that will look perfect and taste incredibly good every time! This cookbook provides you with all the information you need to bake the perfect cupcakes with step-by-step directions.
Baking your favorite cupcake has never been easier with the foolproof recipes and easy decorating tips for each cupcake recipe in this cookbook.
Whether you are just starting out or have lots of experience with cupcake making, this cookbook has plenty of recipes that are easy to make and some that will challenge you more. You will also discover the important steps for making moist, decadent cupcakes there are as well as the key ingredients you need to bake them. This cookbook not only offers a variety of foolproof recipes but also gives baking and decorating tips for a perfect cupcake!
Click here to get this book for FREE
° ° ° ° ° ° ° ° ° ° ° ° ° °