Good morning book lovers. I think I have discovered a chocolate bunny that may be in fact too cute to eat. I know you may think this is impossible but look at these bunnies I have discovered when walking past French chocolate shops… and I love chocolate…like really love it, and I don't think I could bring myself to eat it. What do you think? – The Apprentice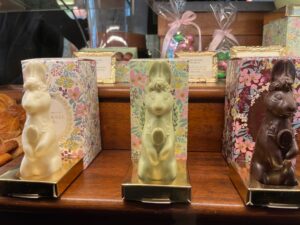 The Moonglow Cafe (A Paige MacKenzie Mystery Book 2)
by Deborah Garner


(10,490 Reviews)
Genre: Mystery
FREE for a limited time
New York reporter Paige MacKenzie has a hidden motive when she heads to the small town of Timberton, Montana. Assigned to research the area's unique Yogo sapphires for the Manhattan Post, she hopes to reconnect romantically with handsome cowboy Jake Norris. The local gem gallery offers the material needed for the article, but the discovery of an old diary, hidden inside the wall of a historic hotel, soon sends her on a detour into the underworld of art and deception.
Each of the town's residents holds a key to untangling more than one long-buried secret, from the hippie chick owner of a new age café to the mute homeless man in the town park. As the worlds of western art and sapphire mining collide, Paige finds herself juggling research, romance and danger. With stolen sapphires and shady characters thrown into the mix, will Paige escape the consequences of her own curiosity?
Click here to get this book for FREE
° ° ° ° ° ° ° ° ° ° ° ° ° °
Augie Doyle and the Dead Boy: A Young Adult Horror Novel 
by Joe Bright


(48 Reviews)
Genre: Teen & Young Adult
FREE for a limited time
Sometimes life is stranger than we think, but it's rarely stranger than what Augie thinks.
When Oliver falls off the Old Mill Bridge and dies, everyone thinks they've seen the last of him. Five days later, he shows up at school, but he's changed. Yes, he's alive but barely.
Is this the dawn of the zombie apocalypse? That's Augie's theory. But this plague only affects Oliver's friends. One by one, as each friend's health gets worse, Oliver's health gets better.
Two of Oliver's friends are also friends of Augie's, and the plague is closing in.
Click here to get this book for FREE
° ° ° ° ° ° ° ° ° ° ° ° ° °
Fortune's Child: A Novel of Empress Theodora 
by James Conroyd Martin


(607 Reviews)
Genre:
FREE for a limited time
Theodora: actress, prostitute, mistress, feminist. And Byzantine Empress of the Roman world. Stephen: handsome Syrian boy, wizard's apprentice, palace eunuch. And Secretary to the Empress. How does this unlikely pair become such allies that one day Empress Theodora asks Stephen to write her biography?
From a very young age, Theodora, daughter of a circus bearkeeper in Constantinople, sets her sights well above her station in life. Her exquisite beauty sets her apart on stages and in the eyes of men.
Stephen, a Syrian lad of striking good looks, is sold by his parents to a Persian wizard, who teaches him a skill in languages that will serve him well. By the time Destiny brings them together in Antioch, Theodora has undergone heart-rending trials and a transformation, while Stephen has been sold again… and castrated.
Click here to get this book for FREE
° ° ° ° ° ° ° ° ° ° ° ° ° °
The Lost Girls of Ireland
by Susanne O'Leary


(10,014 Reviews)
Genre: Women's Fiction | Romance
FREE for a limited time
The picturesque beach of Wild Rose Bay is the last place Lydia Butler thought she'd be. But having just lost everything, the run-down cottage she inherited from her Great Aunt Nellie is the only place she can take her daughter, Sunny. Hidden away in a tiny Irish village, she can protect Sunny from the gossip in Dublin, and the real reason they have nowhere else to live…
The cottage is part of the old coastguard station and other eccentric residents are quick to introduce themselves when Lydia arrives. Lydia instantly feels less alone, fascinated by the stories they have about Nellie, and she's charmed by American artist, Jason O'Callaghan, the mysterious man who lives next door.
But the longer Lydia relaxes under the moonlit sky, the more the secret she's keeping from Sunny threatens to come out. And as she finds herself running into Jason's arms, she knows she must be honest and face up to the past she has tried to forget. Has she finally found people who will truly accept her, or will the truth force her to leave the cottage for good?
Click here to get this book for FREE
° ° ° ° ° ° ° ° ° ° ° ° ° °
Crochet for Beginners
by Lorena Jackson


(370 Reviews)
Genre: Crafts, Hobbies & Home
FREE for a limited time
Are you looking for a new hobby that's both relaxing and budget-friendly?
Looking for a new hobby that's both fun and practical?
How about learning the art of crochet with our beginner's guide book?
If yes, then keep reading!
Inside this comprehensive guide, you'll find practical advice and step-by-step instructions for mastering essential beginner stitches, as well as more advanced techniques like blending colors, joining pieces, and openwork crochet.
With the help of straightforward tutorials, you'll be able to effortlessly follow along and build your confidence as you progress from beginner to pro.
Click here to get this book for FREE
° ° ° ° ° ° ° ° ° ° ° ° ° °