The heat has been keeping me inside a bunch and I just haven't been able to get out in the garden as much as I like. This morning I followed little Rosie out because for some reason she just had to have me there while she does her morning business. I am not sure if it was the cool morning light or what, but these guys just looked so bright and beautiful. I just had to share.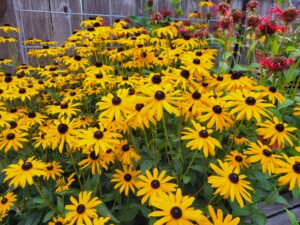 Target Zero (An Agent Zero Spy Thriller—Book #2)
by Jack Mars

(1,715 Reviews)
Genre: Thrillers | Suspense | Literature & Fiction
FREE for a limited time
In this follow up to book #1 (AGENT ZERO) in the Agent Zero spy series, TARGET ZERO (Book #2) takes us on another wild, action-packed ride across Europe as elite CIA agent Kent Steele is summoned to stop a biological weapon before it devastates the world — all while grappling with his own memory loss.
Life returns only fleetingly back to normal for Kent before he finds himself summoned by the CIA to hunt down terrorists and stop another international crisis — this one even more potentially devastating than the last. Yet with an assassin hunting him down, a conspiracy within, moles all around him and with a lover he can barely trust, Kent is setup to fail.
His memory is quickly returning, though, and with it, flashes into the secrets of who he was, what he'd discovered, and why they are after him.
His own identity, he realizes, may be the most perilous secret of all.
TARGET ZERO is an espionage thriller that will keep you turning pages late into the night.
Click here to get this book for FREE
° ° ° ° ° ° ° ° ° ° ° ° ° °
Before That Night: Caine & Addison Duet, Book One of Two (Unfinished Love series, 1)
by Violet Duke


(4,647 Reviews)
Genre: Women's Fiction | Sagas
FREE for a limited time
— Now a USA TODAY Bestseller! —
Before that night, Addison Milan had been just a college dropout secretly raising her two young siblings in a beat-up minivan she'd bought with her first semester's tuition refund–the only money her addict mother hadn't taken off with when she'd abandoned them nearly two years ago.
Before that night, Caine Spencer had been just a rough, gruff cop sent to check out the phoned-in claims of suspected child neglect involving the same woman he'd met just months prior when she'd first served him the city's worst diner coffee… which he'd been drinking daily ever since.
Before that night, Addison would never have thought the man she'd been fighting hard not to fall for–her only friend in her new shadow of a life–would be in a position to rip her family apart.
Before that night, Caine would never have believed any woman could make him fall head over heels, let alone make him feel so damn compelled to look the other way when it came to his job.
Then that one perfect night changed everything.
Click here to get this book for FREE
° ° ° ° ° ° ° ° ° ° ° ° ° °
Dark New World (Dark New World, Book 1) – An EMP Survival Story
by Henry Gene Foster, J.J. Holden


(1,221 Reviews)
Genre: Men's Adventure | Science Fiction | Action & Adventure
FREE for a limited time
Society crumbles after an EMP attack, and the terrifying nightmare has only just begun…
Three people from different walks of life each experience the end of America. Cassy is a 33-year-old prepper and single mother, away on business. Ethan is a hacker and conspiracy nut living underground. Frank is a family man out camping with friends and family.
When a devastating EMP attack in the middle of the night destroys America's infrastructure, they are propelled on an unforgettable journey across an ocean of chaos to reach safety… Safety from an unknown invader and from once-fellow Americans now hungry and desperate.
Dark New World is a prepper story of survival and the fight to retain humanity in the face of an apocalyptic event.
This Post Apocalyptic EMP Survival Thriller is perfect for fans of SHTF fiction, Prepper Survival fiction, and EMP Post Apocalyptic Survival fiction and those who love books by Franklin Horton, Jack Hunt, Ryan Westfield, Bobby Akart, Mike Kraus, Harley Tate, and T.L. Payne. Note: This story has no zombies.
Click here to get this book for FREE
° ° ° ° ° ° ° ° ° ° ° ° ° °
Horror From Below: A Humorous Science Fiction, Zombie Thriller
by JT Sawyer


(116 Reviews)
Genre: Science Fiction & Fantasy
FREE for a limited time
When a bizarre string of unusual corpses washes up on the beaches of San Diego during Halloween week, Detective Lindsey Brant requires more than her usual set of skills to solve the mystery.
Joining forces with horror writer James Archer, the two will have to survive a scourge of undead, international killers, unscrupulous reporters, and rogue spies if they're to unravel the long-buried mystery of a deadly virus that could bring humanity to its knees.
But their greatest threat to the case may just be surviving each other. See if the two will succeed in saving the world in this irreverent new series from JT Sawyer that blends horror, sci-fi, and mystery into a snarky, saltwater thriller.
Click here to get this book for FREE
° ° ° ° ° ° ° ° ° ° ° ° ° °
Luck Be A Chicken: a comic novel
by Jameson Gregg


(89 Reviews)
Genre: Humor & Satire | Humor & Entertainment
FREE for a limited time
Hilarious southern-fried chicken fiction from the Georgia Author of the Year
Butterbean and Ruby Sweat, heads of a comical, fantastically redneck southern family, are trapped in generational poverty and facing a gut-wrenching crisis — how to quickly raise money for their baby daughter's clubfoot operation lest she be a cripple for life.
Memorable characters swarm the pages. Slob extraordinaire Bean – the beer-guzzling, pickup-driving, NASCAR-loving deer hunter – sails through life as trailer park philosopher, clown prince, and champion of his fellow chicken plant workers.
Ruby styles in her leopard leotard as a "kitchen-tician" in her beauty parlor, Ruby's Curl Up 'N Dye, plopped inside an abandoned Airstream trailer now connected to their singlewide. Patrons regale in good-natured gossip swapping, banter, and laughter.
Dark forces loom in the form of Bean's nemesis, Calvin Butler, the unscrupulous and evil chicken plant owner who inherits the reins of the family business. Butler's seedy, drug-clouded world of greed and corruption spins out of control as blackmail becomes a business strategy and weapon of choice. Company funds for modernization and sanitation now pay for Butler's private jet forays and his posh hunting lodge. Tensions with USDA Inspectors escalate and his lawyers fight to hold government hounds at bay.
The flashpoint occurs when Bean suspects a salmonella cover-up then faces the dilemma of a lifetime. Hide the lethal secret and more people could die, or whistle blow and the plant could close and all would lose their jobs.
Southern Baptist forces weave through the Sweat's lives. Bean doubts God's existence but Ruby the Baptist shines the light. Will Butler face justice? Will baby have her operation?
Luck Be A Chicken is hilarious and heartbreaking southern fried chicken fiction; satire flavored with a bit of farce. The Sweat family pathos is tragic, yet comedic. Bean's heroism and viewing life through the lens of humor are their ultimate salvation, at least here on earth.
Click here to get this book for FREE
° ° ° ° ° ° ° ° ° ° ° ° ° °
Practical Gardening Guide for Beginners: How to plan and grow a beautiful back yard
by Liz Temple


(21 Reviews)
Genre: Crafts, Hobbies & Home
FREE for a limited time
Imagine having your morning coffee or winding down after a long day in a tranquil, outdoor space, surrounded by gorgeous plants and the sounds of nature…
You don't have to travel to a far-off destination! You can create an oasis in your own yard, regardless of its size!
Creating your own garden, whether it's on a small apartment balcony, in a limited condo garden, or taking up a vast space in the suburbs or countryside, is much easier than you think!
Practical Gardening Guide for Beginners: How to Plan and Grow a Beautiful Backyard shows you the basics of gardening that everyone needs to know to turn plain dirt and weeds into beauty. Yes! Gardening truly is the stress reliever of the future.
Inside Practical Gardening Guide for Beginners, you'll discover:
• The three main factors to consider when planning your garden: water, lighting, and climate.
• How to properly look at the space you have available before you start digging or planting.
• The tools you'll need for your garden and how you can work them into your budget.
• How to choose plants for your space — from creepers to climbers, annuals to perennials, grasses to trees, and everything in between.
• How to care for your plants by controlling pests, weeding, and making compost.
Getting your hands in the soil will not only lift your spirits but will also give you a workout! Plus, you'll have a sanctuary to enjoy, season after season!
What are you waiting for?
Get your copy of Practical Gardening Guide for Beginners: How to Plan and Grow a Beautiful Backyard, and unleash your green thumb!
Click here to get this book for FREE
° ° ° ° ° ° ° ° ° ° ° ° ° °