Yesterday was certainly exciting with the family and friends over celebrating the Fourth of July. We BBQ'd, set off fireworks, and ate wonderful treats decorated in red, white, and blue. There was one unexpected treat that I was so thrilled to share with my baby bassets. WE GOT CARROTS!! Okay, I know I might seem a bit overly excited about a rather mundane item, but they were the first carrots we have ever grown in our garden. The baby bassets were more than happy to harvest them and then gobble them up. I was a little worried that they would not have enough space to grow, but some of them were easily a foot long. They are so delicious, I am going to grow another crop right away.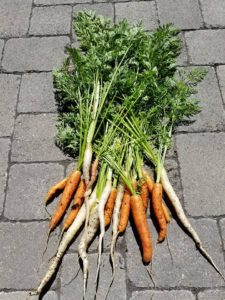 Murder Takes a Dare (The Marisa Adair Mystery Adventures Book 1)
by Jada Ryker


(41 Reviews)
Genre: Mystery | Women's Fiction
FREE for a limited time
"I've gotten myself in too deep–" Jonah's last words are an epitaph to a life spent on the wrong side of the law.
Marisa Adair is shocked when Jonah, a former friend from her chaotic past of drinking and partying, surfaces only to be murdered. She must solve the crime before the killer destroys her new life.
To find the murderer, Marisa partners with unusual collaborators. Dithering Russell is focused on ferreting out secrets, including her colorful past. Childhood friend Alex is a chief financial officer and the chief pain in her… neck. Esther is the daughter of a former agent in the FBI's controversial "Dickless Tracy" program for women. She learned to disable an opponent in hand-to-hand combat around the same time she learned to spell and throw the quintessential tea party.
Marisa must revisit her dark past of childhood deprivation and adult struggles with addiction. The clues point to the shadowy underbelly of a notorious club, the setting for the glittering fool's gold of her old double life. Can Marisa and her friends solve the mystery before the murderer strikes again?
Click here to get this book for FREE
° ° ° ° ° ° ° ° ° ° ° ° ° °
Rae of Sunshine (Light in the Dark Book 1)
by Micalea Smeltzer


(233 Reviews)
Genre: Romance | Coming of Age
FREE for a limited time
What I remember the most about that day was that it was completely ordinary. Then with one stupid decision everything fell apart and nothing was ever the same.
Rae Wilder wants nothing but a do over — but life doesn't work that way. She's stuck living out the consequences of her actions. At times the burden feels unbearable.
College is supposed to be her second chance.
New place.
New people.
New life.
No one to know what she did.
Despite that, she has still vowed to avoid everyone and everything at all costs.
Unfortunately for her, an accidental run-in with the campus heartthrob, Cade Montgomery, derails that plan.
He's determined to thaw the ice around her heart and expose the girl she used to be. He wants to show her that life is worth living for and that she really is a Rae of Sunshine.
Click here to get this book for FREE
° ° ° ° ° ° ° ° ° ° ° ° ° °
Morium: Book One of the Young Adult Supernatural Trilogy
by S.J. Hermann, Claudette Melanson


(70 Reviews)
Genre: Suspense | Teen & Young Adult | Family Life | Horror | Fantasy
FREE for a limited time
If you had the powers to avenge yourself… would you?
Bullied… Years of shame… Lexi and Nathan knew pain.
MORIUM is the story of Alexandria and Nathan… and Stacy. Three teenagers who were victims of bullying all through high school. They kept their torment a secret from their family and tried to cope in their own way. They only had each other. Their friendship saw them through the seemingly endless years of suffering.
But hope was in sight… they will be graduating soon. The vision of a new life away from the bullies and the constant humiliation, gave them something to look forward to. If only that day came sooner.
One night, Lexi and Nathan saw an object fall from the sky and went to investigate. As they touched the rock, a strange power entered their bodies. Suddenly, they're not helpless anymore. They can get revenge for all the suffering and pain they had to endure.
How will they use these powers?
MORIUM discusses the moral dilemma of doing what's right against getting revenge. When your dignity has been shattered and your life has been a living hell… what is RIGHT?
Possible trigger warning. Scenes of self harm may be disturbing to sensitive readers.
Click here to get this book for FREE
° ° ° ° ° ° ° ° ° ° ° ° ° °
The Eagle and the Dragon, a Novel of Rome and China
by Lewis F. McIntyre

(9 Reviews)
Genre: Historical Fiction | Action & Adventure
FREE for a limited time
The Eagle and the Dragon takes the reader on an epic journey of thousands of miles by sea and land across three continents.
When Senator Aulus Aemilius Galba is tapped to lead the first Roman mission to China, he anticipates an easy path to fame and fortune. Gaius Lucullus sees a bright military future, but his reluctant centurion Antonius Aristides would rather be somewhere else. Translators Marcia Lucia and her brother Marcus were taken from their village in China to serve the Han court, abused and despised, hiding a horrible secret. A notorious Arab pirate, with a Roman price on his head and crucifixion in his future, shadows the entourage, seeking the wealthy prize of their treasure-laden ships. But Fate has other plans for these unlikely companions, sending them together on a journey that will take them thousands of miles by sea and land across the tapestry of the mysterious worlds at the close of the first century. From the storm-tossed Indian Ocean to the opulent Hanaean court, from the wild grassy steppes north of China to the forbidding peaks of the Pamir Mountains of Bactria, they fight for their lives, hoping to find the road that will lead them back to Rome.
Click here to get this book for FREE
° ° ° ° ° ° ° ° ° ° ° ° ° °
The Ultimate Guide: Recipes of Massachusetts
by Encore Books


(15 Reviews)
Genre: Cookbooks, Food & Wine
FREE for a limited time
The Ultimate Guide: Recipes of Massachusetts
Discover the wonder of food in Massachusetts… one delicious dish at a time.
Massachusetts cooking is incredibly unique! From clam chowder to baked beans, from lobster roles to cream pie, the mix of ingredients, create incredible and fabulous meals. Because of its proximity to the Atlantic ocean, fish has a great influence on the status cuisine and the basis of some of the recipes goes back to the discovery of America.
Try all 31 great recipes that best represent this great state.
Click here to get this book for FREE
° ° ° ° ° ° ° ° ° ° ° ° ° °