I can't even tell you how exciting this picture is to my partner in crime and I. After all the hard work over a year and a half, all the things we have learned, and the countless times my partner in crime got stung… This is our reward! We were so giddy when we opened the spout and out poured all this beautiful honey. Next year will be about triple the amount of this year's since this is just from one of our hives. The other two are still in their first year. We have enough to give to our friends and family as gifts for Christmas, with enough leftover for ourselves. So excited!!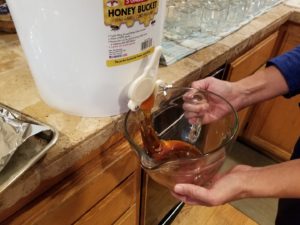 The Deep Enders
by Dave Reardon, Ann Reardon


(22 Reviews)
Genre: Action & Adventure | Literature & Fiction | Mystery
FREE for a limited time
His home destroyed in the attack on Pearl Harbor, a troubled young man stumbles into the exotic town of Broome hoping for safe harbor. Instead, Murph Turner discovers a wild and lawless place brimming with espionage, treachery and romance.
An outsider in a bewildering land of red dust and paranoia, Murph is quickly taken under wing by Banjo – a cheeky Aboriginal scamp with a passion for pyrotechnics – and Micki, a beautiful teenager on the run from authorities.
But even as the Japanese armada closes in on the northern coastline, the trio is suddenly thrust into a murderous adventure – all set against the backdrop of a true WWII tragedy, so brutal that it was immediately covered up by the Government.
Click here to get this book for FREE
° ° ° ° ° ° ° ° ° ° ° ° ° °
Before Bethlehem
by James J. Flerlage


(845 Reviews)
Genre: Religion & Spirituality | Religious & Inspirational Fiction | Historical Fiction | Holidays
FREE for a limited time
The Pinnacle of History through the Eyes of a Boy
This spellbinding work of historical fiction offers the eyewitness account of 15-year-old James, son of Joseph bar Jacob, and the dangerous and heartrending choices his family must make in the days leading up to Joseph's relationship with Mary, and the birth of Jesus of Nazareth.
With crisp prose, tangible description and thought-provoking insights, Before Bethlehem takes readers on a vivid journey to the dusty Galilean village of Nazareth, where Joseph is summoned by Rabbi Boethus, a Sadducean high priest, to marry an orphaned virgin in Jerusalem. By accepting the Rabbi's request, Joseph unknowingly thrusts himself and his family into a bitter and emotionally draining life-or-death conflict.
Joseph fights to maintain his spiritual integrity while trying desperately to keep his family together and his farm alive. He and James witness abhorring violence at the hands of the Romans, and outlandish abuses of power by their own religious leaders. As his family's faith and hopes are threatened by scandal and scorn, James struggles between the boy he is and the man he must become.
Before Bethlehem is an eye-opening account of the Nativity story told in a suspenseful, historical context that dares to ask the question: If Joseph should have turned Mary over to be stoned, why didn't he? His profound answer is one that forever changes the life of his son, James. And it may just change yours, as well.
Click here to get this book for FREE
° ° ° ° ° ° ° ° ° ° ° ° ° °
Hollywood Games: A Hollywood Alphabet Series Thriller
by M.Z. Kelly


(139 Reviews)
Genre: Thrillers | Mystery
FREE for a limited time
LAPD cop Kate Sexton is back in Hollywood after taking a much needed vacation with her canine partner, Bernie.
Hollywood Games is a puzzle that begins with a tough but vulnerable cop trying to put her life back together. Add in a hyperactive canine partner who's already sired a love-puppy named Bubba, a new homicide partner who is allergic to dead bodies, and Kate's meddling best friends, Natalie and Mo, who think they're the world's greatest private detectives.
The puzzle pieces are scattered when a high-profile realtor is found murdered, floating in his hot tub, and his partner looks good for the crime. But Kate isn't convinced and works the case until she realizes the killing might have ties to the victim's many love interests and the largest gang in Hollywood.
The final pieces of the puzzle come into play when Kate's love life takes an unexpected turn, she has to move on short notice with her friends into a spooky dilapidated mansion owned by a deceased actor, and the city is threatened with a gang war.
Join Kate as she struggles to repair a personal life that's gone off the rails while she tries to solve a crime with more twists and turns than a street in the Hollywood Hills. Throw in equal parts of humor and suspense, and you've got Hollywood Games, the seventh novel in the funny, crazy, wild lives of Detective Kate Sexton and her canine partner, Bernie.
Click here to get this book for FREE
° ° ° ° ° ° ° ° ° ° ° ° ° °
The Solitaire Prince
by Tyan Wyss

(29 Reviews)
Genre: Science Fiction & Fantasy | Fantasy | Mythology & Folk Tales | Romance
FREE for a limited time
It's a deadly romantic game for all! Imprisoned in a castle tower with only the lonely game of Solitaire to keep her company, the lovely Princess Christine languishes away. Freedom is only a birthday away, until her wicked father determines that she must marry or die! In this medieval fairy tale with a twist, Princess Christine's fairy-godmother, Eloise, encourages the princess to require any prospective husband to either win three games of solitaire or forfeit his head! When two princes, Charles and Peter, try their luck, Christine loses her heart to the wrong prince while her cousin Agnes falls in love with the winner! How this medieval tale of chance will end up is anyone's call, but one thing's for certain; King Henry and his kingdom will never be the same!
Click here to get this book for FREE
° ° ° ° ° ° ° ° ° ° ° ° ° °
The Ghosts of Hexley Airport
by Amy Cross


(56 Reviews)
Genre: Horror
FREE for a limited time
Ten years ago, more than two hundred people died in a horrific plane crash at Hexley Airport.
Today, some say their ghosts still haunt the terminal building.
FROM THE AUTHOR OF HAUNTED, ASYLUM AND THE ASH HOUSE.
When she starts her new job at the airport, working a night shift as part of the security team, Casey assumes the stories about the place can't be true. Even when she has a strange encounter in a deserted part of the departure hall, she's certain that ghosts aren't real.
Soon, however, she's forced to face the truth. Not only is there something haunting the airport's buildings and tarmac, but a sinister force is working behind the scenes to replicate the circumstances of the original accident. And as a snowstorm moves in, Hexley Airport looks set to witness yet another disaster.
Click here to get this book for FREE
° ° ° ° ° ° ° ° ° ° ° ° ° °